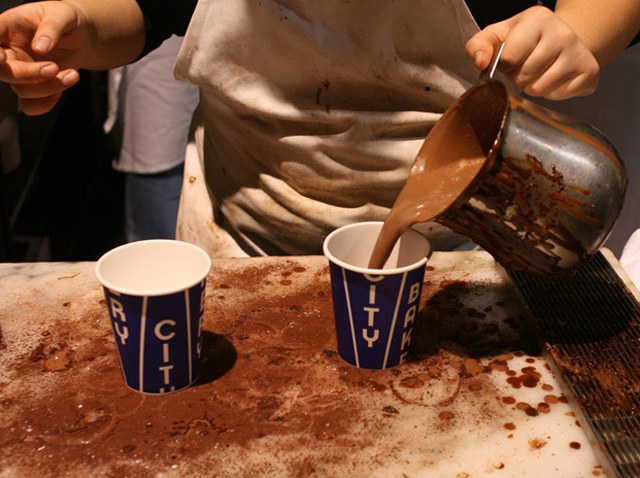 The monthlong City Bakery Hot Chocolate Festival – otherwise known as The Only Thing That Gets Us Through February – kicks off today in its 18th season, with the iconic café pouring a different flavor of its signature beverage for every day of the month (starting with Lemon, being served up as we type). Here's what you need to know: Here's what you need to know:
CB owner Maury Rubin's new flavor for 2010 is Moulin Chocolate Rouge, a mix of dark chocolate and espresso spiked with lemon and pomegranate. It drops on February 10.
-Our picks: Chili Pepper (February 2), the classic Caramel (February 7), Bourbon (February 12), Beer + Brown Sugar (February 25).
-This year's theme is "How to Knit a Marshmallow," with a special all-you-can-drink cocoa-and-knitting night on February 18, when knitting shops like Soho's Purl and Carroll Gardens' Brooklyn General Store will be on hand to provide needle-clacking tutorials.
-And of course: the full calendar: You can click through to each day of February on City Bakery's Hot Chocolate Festival website, or you can spy the whole lineup in one list over at The Feed.
So you see, you do have a reason to get out of bed before spring. The City Bakery, 3 West 18th Street, 212-366-1414. Normal 0 MicrosoftInternetExplorer4 st1\:*{behavior:url(#ieooui) } /* Style Definitions */ table.MsoNormalTable {mso-style-name:"Table Normal"; mso-tstyle-rowband-size:0; mso-tstyle-colband-size:0; mso-style-noshow:yes; mso-style-parent:""; mso-padding-alt:0in 5.4pt 0in 5.4pt; mso-para-margin:0in; mso-para-margin-bottom:.0001pt; mso-pagination:widow-orphan; font-size:10.0pt; font-family:"Times New Roman";}
Copyright FREEL - NBC Local Media