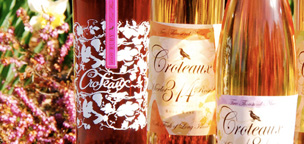 For the wine industry, spring means it's time for wineries to hawk their latest vintage to merchants and sommeliers. For the rest of us, this simply means it's tasting time! Bring on the red, white and, this year especially, the rosé.
"I don't have the numbers handy, but there has been something like 1,000 percent growth in the last few years, in terms of Americans drinking and buying dry rosés," says Brian Halweil, editor and copublisher of the locavore food pubs Edible East End, Brooklyn and Manhattan.

On Wednesday, Brooklyn Uncorked is uncorking quite a few rosé wines at the BAM Cafe, all of them grown and bottled from Long Island.
"This year's Uncorked will have a special focus on rosés, a wine that more and more Long Island wineries are producing, and a type of wine that New York wineries can do well in general," says Halweil.
Wolffer and Channing Daughters from the South Fork, two of the better known vineyards, will be presenting their 2009 vintages, as well many wineries from the North Fork -- some of which are usually only served at the wineries own tasting room.

Croteaux Vineyards makes exclusively rosé -- or "rosé on purpose" as they say -- from Merlot grapes and uses the traditional pressing method (grapes are literally pressed 2-3 tons at a time under their own weight) while Corey Creek uses the saignée or "bleeding" method: red grapes are crushed and macerated, the first runoff used for rosé while the rest of the fruit, which stays in contact with the skins longer, is made into red wine.
"This [rosé] wine allows us to showcase the beautiful aromatics we can get from our red grapes while also offering a lighter and more refreshing mouthfeel," winemaker Kelly Urbanik told Edible East End.

As with any wine tasting, there will plenty of food with which to practice impromptu pairing. Gramercy Tavern, Dressler & Dumont, The Good Fork and Tipsy Parsons are offering a small plate smorgasborg of ruby red shrimp and ramps, grilled octopus salad, dumplings and pulled pork po'boys respectively, while Brooklyn locals D. Colluccio & Sons are bringing the requisite cheese and cured meats.

Tickets are $50 and include a subscription to one of the Edibles.
Copyright FREEL - NBC Local Media