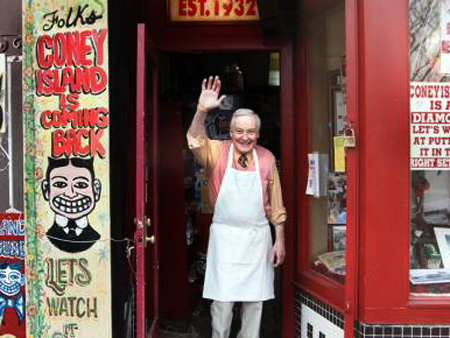 MEAT AGAIN: No fewer than 96 (!) films from all over the world will screen at the seashore this weekend in the Ninth Annual Coney Island Film Festival – and the crown jewel of this year's fest is Charles Denson's feature documentary "The Prince of Mermaid Avenue," which tells the story of Jimmy Prince, owner of Mermaid Avenue's Major Meats, who retired last year after 60 years of feeding the Coney community. 7:30PM, full fest details here.
HOT MESS: Film Forum fêtes the 50th anniversary of Billy Wilder's ladybuddy movie "Some Like It Hot," with a special screening featuring Laurence Maslon, the author of "SOME LIKE IT HOT: The Official 50th Anniversary Companion" who'll talk about and sign copies of the book. Also? Tony Curtis is rumored to be attending, although – sadly – probably not in drag. 7PM.
CORKED: City Winery's Wine Pairings concerts are becoming one of our new favorite things: Tonight, "A Case of You" will pair the music of Canadian folk crooner Joni Mitchell (performed by Obie-winning Mitchell trib creator John Kelly) with some deliciously appropriate vintages. But we recommend a hearty dinner beforehand: The event features 20 songs and 20 wines. 10PM.
Got a tip? Email us.
Copyright FREEL - NBC Local Media