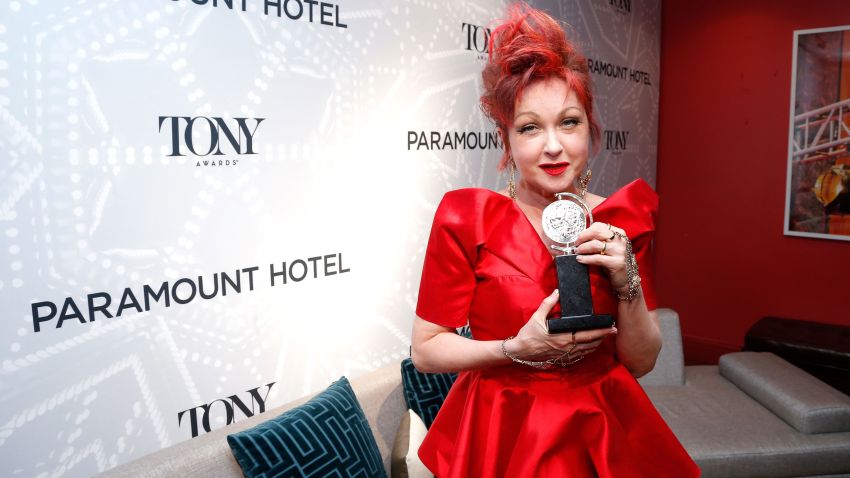 Heartfelt acceptance speeches and exhilarating live performances -- including one from the cast of "Motown," which which wasn't even a best musical nominee -- helped make for memorable moments at the 67th annual Tony Awards, celebrated last night at Radio City Music Hall.
Though their wins were largely expected, actress Cicely Tyson, composer Cyndi Lauper and actor Billy Porter delivered sentimental speeches that singled out loved ones and acknowledged their own winding paths to success.
"I had this burning desire to do just one more ... one more great role," said Tyson, 88, whose Tony for "The Trip to Bountiful" made her the oldest actor ever to win the award. "I didn't want to be greedy. I just wanted one more." (Tyson's actual age has been in dispute this season, but reliable sources put it at that number.)
The stars of "Matilda," "Kinky Boots," "Annie," Berry Gordy's "Motown" and "Rodgers & Hammerstein's Cinderella" were each showcased in dynamic fashion during the broadcast, which was guided for the fourth time by master of ceremonies Neil Patrick Harris. As usual, straight plays, never the same draw for tourists as a big budget musical, were largely ignored as set pieces. That was a shame, because more people should have seen something of Nathan Lane's brilliance in "The Nance."
Tony night brought enough surprises to keep veteran theatergoers guessing: Tom Hanks, the favorite to win an acting award for "Lucky Guy," saw the trophy go to Tracy Letts for "Who's Afraid of Virginia Woolf?" The "Woolf" revival has been closed since March.
The squeaker of a contest for lead actress in a musical, between sweet Laura Osnes ("Cinderella") and commanding Patina Miller ("Pippin"), went to Miller, against the calls of many insiders.
And, it was a particularly special evening for women and African-American actors, who won honors in numbers not frequently seen in awards shows of any genre. Here were some of the biggest moments from the evening.
BIGGER IS BETTER. The Tonys were back at Radio City this year after two years at the Beacon Theatre, and producers made spectacular use of the larger space with an opening number penned by Lin-Manuel Miranda ("Bring It On"). Beginning on a set modeled on the pub from "Once," the song featured cast members from musicals both long-running and new, "Annie," "Pippin," "Matilda," "Newsies," "Jersey Boys" and others. It took all of three seconds for the first joke to land at the expense of Shia LaBeouf, who transformed himself into a Broadway punchline after being fired from the cast of "Orphans": "I wouldn't be here if someone else hadn't passed on hosting duties," Harris joked, thanking LaBeouf for "the opportunity."
The song had Harris jumping through hoops like the circus performers of "Pippin," and climbing on shoulders like the cheerleaders of "Bring It On." There was a cameo by Mike Tyson, who would become the subject of running gags throughout the night. Former stars of "Billy Elliott," now fully grown, appeared surreally in tutus. Harris, a magician, pulled off a stunt that still has me scratching my head, climbing onto a box on stage and then appearing moments later in the theater's aisles. A tough act to follow? You only had to get a glimpse of amazed audience member Debra Messing during a half-second cutaway to know the answer.
EVERYBODY SAY YEAH! Veteran New York actor Billy Porter walked away with the Tony for lead actor in a musical for his role as a self-assured drag queen in "Kinky Boots," the American-grown musical by Cyndi Lauper and Harvey Fierstein that also took the night's top honor and brought Lauper her first Tony. Porter thanked his sister and singled out his mother, for her willingness to "embrace that which you don't understand." He acknowledged his longtime friend, director Jerry Mitchell, for "reaching back and lifting up an old friend." And he saved what were perhaps his most sincere accolades for co-star Stark Sands: "I share this award with you. ... I'm gonna keep it in my house, but I share it with you," Porter said.
"MOTOWN'S" LAST LAUGH. Berry Gordy's musical based on his own autobiography failed to win any major awards, but the medley performed early in the show and led by star Brandon Victor Dixon is sure to direct even more cash into the show's already-overflowing coffers. Dixon left the stage to sing "Get Ready" directly to charmed front-row guest Audra McDonald, and was then joined by the full cast for a rousing take on "Dancing in the Street." The number ended with a performance by the actors playing the Jackson 5. The medley highlighted all the best things about "Motown," without drawing any attention to its rambling book. Score a major coup for Gordy.
HANKS UPSET. Though a favorite to bring home the top prize for acting in a play as a New York tabloid columnist in Nora Ephron's "Lucky Guy," Tom Hanks lost out to veteran Steppenwolf ensemble member Tracy Letts, the star of "Who's Afraid of Virginia Woolf?" Audiences still got to hear from the two-time Oscar winner, who spoke admiringly of his newfound theater colleagues before handing out the award for featured actress in a play. Said Hanks: "Just last Wednesday at Sardi's over the half-price menu for actors in between shows, Julie Andrews said to me that it wasn't until Broadway came into her life that she felt she had made it. After being so warmly embraced by the community, I think I know what she means." Mr. Hanks, we'd bet you'll be welcome back anytime.
GIRLS JUST WANNA ... The two directing awards both went to women, only the second time in history that's happened (the first was 1998): Diane Paulus won for helming the musical revival of "Pippin," beating out Matthew Warchus, who many had expected to win for the dark British import "Matilda." Pam MacKinnon, a nominee last year for "Clybourne Park," took the play prize for directing "Woolf." Paulus, previously nominated for "Hair" and "The Gershwins' Porgy and Bess," thanked a slew of pals, from Harvard president Drew Faust to "Pippin" producer Barry Weissler: "My parents gave me the best gift a daughter could ever hope for -- the encouragement to do what you love with your life, and I could only hope to be as good a mother to my daughters at home watching," Paulus said.
MORE GIRLS, MORE FUN. Cyndi Lauper became the first solo woman to win a Tony Award for best score for her work on "Kinky Boots." "I was nervous, but I can't say I didn't practice in front of a shower curtain for a couple of days," she said at the podium, her Queens accent on display in full glory. "All right, I gotta thank my mom for sharing all that wonderful music. I wrecked all her Broadway musicals when I was a kid ... the cast albums." And she thanked "Kinky Boots" librettist Harvey Fierstein for phoning her up and bringing her into the project: "I'm so glad I wasn't doing the dishes when he called." Later, Lauper performed "True Colors" to accompany the annual "In Memoriam" segment.
LONG "TRIP." Cicely Tyson plays a Southern widow aching to return to her childhood home one last time in the revival of Horton Foote's "The Trip to Bountiful." Both women could share a motto: wait long enough and you'll be rewarded. "It's been 30 years since I stood onstage, and I really didn't think it would happen again in my lifetime," Tyson said of her critically praised role as Carrie Watts, noting that she was the sole surviving member of her immediate family. "My mother and father, sister and brother ... none of them are here with me." The winner was gracious when her "Time's Up" warning went off on the Teleprompter. Said Tyson: "'Please wrap it up,' it says. Well, that's exactly what you did with me: You wrapped me up in your arms after 30 years." Tyson's late-night win brought to four awards -- or, 50 percent of the acting honors -- taken home by African-American actors. The others were Porter ("Kinky Boots"), Miller ("Pippin") and Courtney B. Vance (featured actor in a play for "Lucky Guy").
MORE TONY TIDBITS ... After seeing Jane Lynch perform "Little Girls" with the young stars of "Annie," some theatergoers may wonder why she wasn't nominated for a Tony. It's easy to forget Lynch stepped in for "Annie's" original Miss Hannigan, Katie Finneran, who left "Annie" for a TV role and was not nominated. ...
The evening's Good Sport Award goes to Mike Tyson, who aside from joining Harris in the opening number was also the subject of ongoing jabs. Said Harris: "You haven't lived until you've seen Mike Tyson in a pair of "Kinky Boots," and, after an homage to "Phantom of the Opera," "You won't believe this ... in the fog, on his hands and knees, I just saw Mike Tyson pulling the boat with his teeth." ...
As he has in the past, Harris returned with a new set of Broadway show title mash-ups: "Children of a Lesser Godspell," "The Testament of Mary Poppins," and "The Diary of Anne Frankenstein: The Musical." Jested Harris of the latter: "Justin Bieber would love that show." ...
A skit about Broadway actors moving to L.A. to do TV, only to suffer the indignities of a cancellation brought to the stage Andrew Rannels ("The New Normal"), Megan Hilty ("Smash") and Laura Benanti (both "The Playboy Club" and "Go On"). Then they had to put up with grief from Harris, star of the long-running "How I Met Your Mother." ...

Andrea Martin, winning as featured actress in a musical for "Pippin," managed to allude to the spectacular nature of her performance without ruining the surprise for theatergoers who haven't seen it: "Do you know how wonderful it is to be held by a man at my age ... and not be dropped?" ...

Introducing Best Musical nominee "A Christmas Story," host Harris was joined by Sandy, the gentle canine co-star of "Annie." Harris must've slathered his face in red meat during the commercial break, or else he's just a really sweet guy, because Sandy started licking his face and wouldn't stop. "You do know I'm in a relationship, right?" the host finally said to the persistent pup.
Follow Robert Kahn on Twitter@RobertKahn