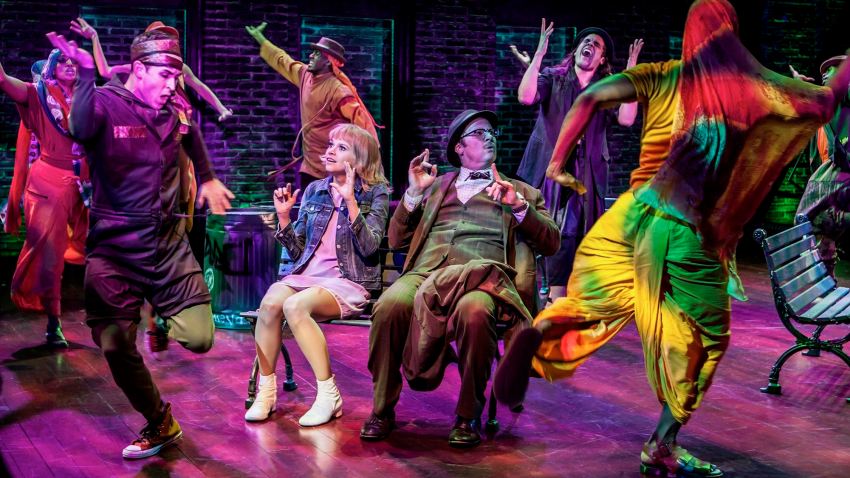 Sutton Foster—with her innocent smile and bewildered eyes—may well have been born to play Charity Hope Valentine, the naive dance hall hostess of "Sweet Charity," the Cy Coleman-Dorothy Fields musical with a seriocomic book by Neil Simon.
Is there an actress more adept at toggling between hopefulness and heartbreak with just the bat of an eyelash?
The New Group's "Sweet Charity" is a bittersweet, but sublime revival that begins with Foster—in a blonde wig likely to be the only controversial element of this production—being robbed and pushed into a fountain. Let that ruin her day? Not this "taxi dancer," who's used to being kept off kilter by "the fickle finger of fate."
Leigh Silverman, who directed Foster in "Violet," takes us through all the steps of the classic musical, which is marking its 50th anniversary.
"Big Spender," with its sequin-bedecked quintet of hoofers, would look at home on the larger stage of Studio 54. A jubilant take on "If My Friends Could See Me Now" has us cheering for Foster as she gallivants through a wealthy suitor's apartment.
Shuler Hensley ("Oklahoma!" etc.) is very good as Oscar, the sad and awkward neurotic who befriends Charity when they're stuck in an elevator. She calms him down, and he returns the favor a few scenes later, when they're trapped on the Parachute Jump at Coney Island.
Could he be the man Charity is waiting for? If you know "Sweet Charity," you know the answer, so let's just allow that somehow, Hensley makes it still come out of the blue.
Joel Perez gets to show more range here than in the recent "Fun Home," portraying a quartet of characters, among them narcissistic movie star Vittorio Vidal, and Herman, the hard-bitten owner of The Fandango Club, where Charity has toiled for 8 years.
Asmeret Ghebremichael and Emily Padgett play off each other famously as dancers in the wistful "Baby, Dream Your Dream." "Where Am I Going?" closes "Sweet Charity" on a tender note that brought Foster and the company an ovation, and makes for a gut-wrenching reminder that this is no happy-go-lucky tuner.
Joshua Bergasse ("On the Town") has choreography duties—this work is new, but he has talked about "purposeful homages" to original choreographer Bob Fosse. Perched above the audience is a six-woman orchestra on guitar, bass, cello and so on. The setting is intimate and minimalist.
The last time "Sweet Charity" had a major run in New York was in 2005, starring Christina Applegate, who broke her foot during out-of-town tryouts but rallied to a Tony nomination. Producers are said to be mulling a Broadway transfer for Foster, if it can be worked around her shooting schedule on TV's "Younger."
"Sweet Charity," through Jan. 8 at The Pershing Square Signature Center, 480 W. 42nd St. Tickets: $95-$175. Call 212-279-4200.
Follow Robert Kahn on Twitter@RobertKahn