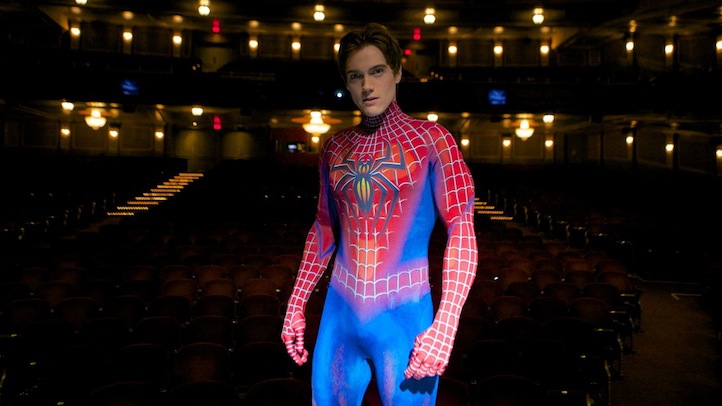 Producers of the musical "Spider-Man: Turn Off the Dark" announced late Monday that the $75 million production, known as the most expensive show in Broadway history, will be packing up its web and swinging out of town on Jan. 4. At that time it will have played 1,268 performances.
Declining ticket sales are being cited as the reason for closing, according to published reports quoting producer Jeremiah Harris. The show costs $1.2 million to produce each week and only grossed $742,595 last week out of a potential gross of more than $1.5 million. "We could run for probably another three to five years being stuck in the middle," said Harris, who told The Wall Street Journal that the show "wasn't making any money or losing any money in New York."
A retooled Las Vegas production is being planned for a 2015 premiere, Harris said -- though no official theater has been announced. "We think it will play Las Vegas with a greater bang than it did in New York," said Harris.
"Spider-Man: Turn Off the Dark," which features a score by U2's Bono and The Edge, opened at the Foxwoods Theatre on June 14, 2011 after an extended, troubled preview period that began on Nov. 26, 2010. During previews, director and co-book-writer Julie Taymor was fired from the show, and replaced by Philip William McKinley and Roberto Aguirre-Sacasa, respectively, who brought a retooled production to opening.
The show has also gained a reputation for cast injuries due to technical malfunctions. Six actors have suffered injuries from the production so far -- the most-recent being Daniel Curry, who was injured in August when a stage lift closed on his right ankle during show's the second act.
In April, Julie Taymor and producers settled competing lawsuits, restructuring the finances of the show. "Song of Spider-Man," a tell-all book about the production written by one of the show's other book writers Glen Berger, was published earlier this month.