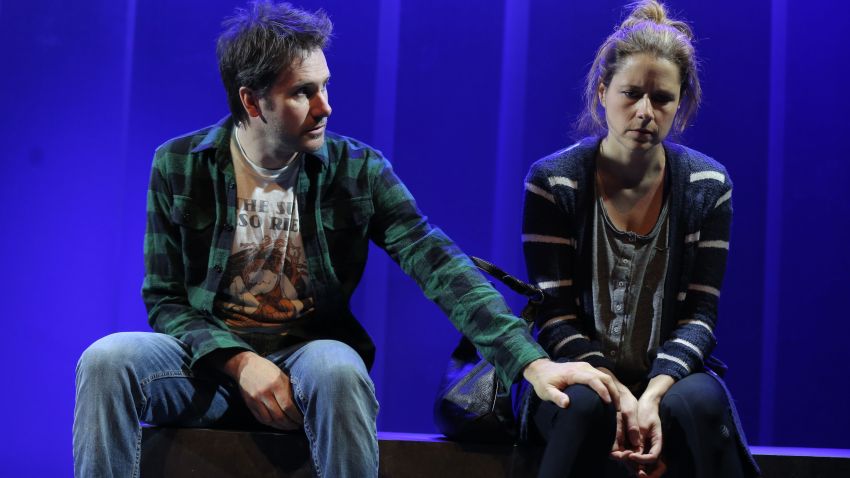 Neil LaBute's "Reasons to Be Happy," which opened Tuesday night at the Lucille Lortel Theatre, delves into the conflicts between the same set of four working-class characters we met in his 2008 "reasons to be pretty."

They're played by four new actors: Jenna Fischer ("The Office"), Josh Hamilton, Leslie Bibb and Fred Weller.
The MCC Theater's "Happy" begins three years after a contentious break-up, with Steph (Fischer) and Greg (Hamilton) wondering if they can make a fresh go of it. The problem: she's now married to someone else and he's just embarked on a relationship with Steph's best friend, Carly (Bibb), a single mom whose jerk of an ex-husband, Kent (Weller), has trouble articulating his feelings.
Below, a look at what some of the top critics had to say, and then some video from MCC Theater where LaBute and the cast guide us through the story:
Melissa Rose Bernardo, Entertainment Weekly: "If Jenna Fischer wanted to shed the good-girl image she acquired during nine seasons on NBC's 'The Office,' a Neil LaBute play is a pretty great way. Steph -- her hot-tempered, foul-mouthed, physically and abusive character in the oddly captivating 'Reasons to Be Happy' -- is worlds away from reserved receptionist Pam Halpert. ... Here, she berates, cajoles, provokes, and, sigh, goes crawling back to Greg (Josh Hamilton, giving one of his best performances in years) -- the guy she dumped in 'Pretty' because he called her, well, not pretty... 'Happy' stands on its own, of course; so if you didn't see 'Pretty,' don't worry -- LaBute gives us all the necessary background. I just wish he'd given us a credible female character or two as well."
Ben Brantley, The New York Times: "Mr. LaBute is more relaxed as a playwright than he's ever been. He is clearly having a good time revisiting old friends. ... Yep, a man best known as a snarling misanthrope has come up with what may be the most winning romantic comedy of the summer, replete with love talk, LaBute-style, which isn't so far from hate talk. One sweet and angry example: 'I haven't stopped thinking about you since you smashed my ice cream sandwiches into the pavement.'"
Joe Dziemianowicz, New York Daily News: "Fischer is a natural, with an easy-going charisma that softens the wholly unlikable and violent Steph. Hamilton nails Greg's halting ability to grab the reins of his own life. ... But LaBute oversells the idea that his characters have no use for education or self-expansion. ... Presumably, the author's intent is to show the blue-collar characters' small lives, but the lines sound false and toll with condescension. No reasons to be happy about that."
Jennifer Farrar, Associated Press: "Fischer is excellent at delivering Steph's profanity-laden tirades and then showing her character's vulnerability and hopefulness. Hamilton's subtle performance and air of nebbishy decency render Greg immediately sympathetic ... In following up with the lives of his earlier characters, LaBute presents another compassionate examination of the ways people struggle to connect and try to find happiness. Possibly even together. Or not. Maybe the next chapter can be called 'Reasons to Be Confused.'"
Linda Winer, Newsday: "The play is a surprisingly straightforward and awfully mundane relationship drama about four working-class people with what-does-it-all-mean? crises. ... Understandably, LaBute appears to be working to escape his reputation for shock endings. Alas, the alternative, at this point, is pretty dull."
Follow Robert Kahn on Twitter@RobertKahn