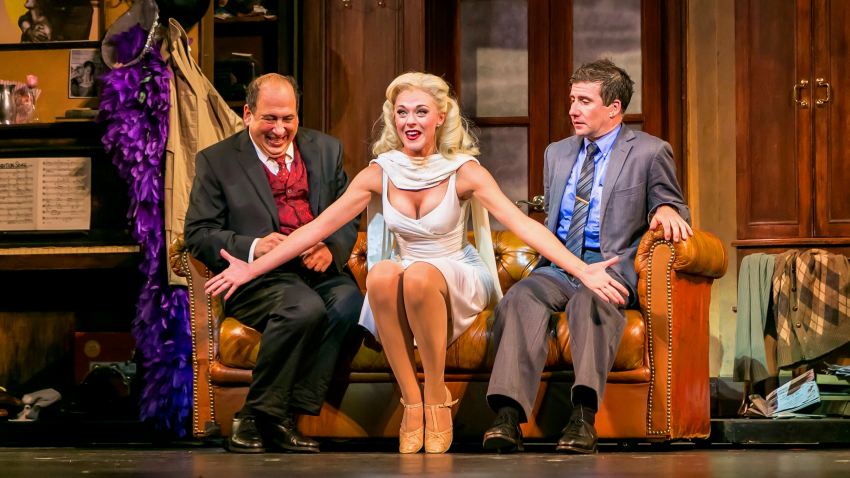 The Paper Mill Playhouse opens its fall season with springtime … for Hitler, presenting a faithful staging of the Mel Brooks musical "The Producers," which won 12 Tony Awards back before anyone ever heard of "Hamilton."
Based on Brooks' own 1968 satirical movie, the story tracks two theatrical producers who scheme to get rich by launching a Broadway flop. Their plan goes askew when the show unexpectedly becomes a hit.
Musical highlights include "I Wanna Be a Producer," set in the Chambers Street offices of a claustrophobic accounting firm; and the over-the-top production number "Springtime for Hitler," with its kickline of audacious Aryans on the stage of the Shubert Theatre.
The Paper Mill's glitzy recreation features the original choreography by Susan Stroman.
Two of the biggest punchline moments have a gaggle of old ladies dancing with their walkers, and armband-wearing pigeons swearing their allegiance to the führer on the roof of a Greenwich Village apartment building.
Leading the company are Michael Kostroff as Max Bialystock and David Josefsberg as Leo Bloom.
Kostroff, of HBO's "The Wire," is on his seventh outing as Bialystock, a role he understudied on the first national tour of "The Producers." The jailhouse lament "Betrayed" is a showcase for his eye-bulging ease with the role.
Josefsberg, who previously starred at Paper Mill in the world premiere of "Honeymoon in Vegas," is endearing as nebbishy accountant Bloom, who chucks his job to pursue a new career—finding love and losing his security blanket along the way.
Ashley Spencer is a riot as Ulla, the Swedish sexpot who goes to work at the offices of Bialystock & Bloom.
Kevin Pariseau and Mark Price camp it up as flamboyant director Roger DeBris and his sibilant assistant Carmen Ghia. John Tracy Egan is sinister and maniacal as Franz Liebkind, the "Springtime" playwright who keeps the army of Swastika-bedecked birds on his roof.
"The Producers" was the first Broadway mega-musical to offer premium seating -- the then $200-plus tickets were something of a scandal, which seems quaint in the context of "Hamilton."
Brooks' shticky, sometimes-sagging musical doesn't stand the test of time quite the way we suspect "Hamilton" will, but the Paper Mill cast milks the gags for all they're worth.
"The Producers," through Oct. 23 at Paper Mill Playhouse, 22 Brookside Drive, Millburn, N.J. Tickets: Starting at $32. Call 973-376-4343.
Follow Robert Kahn on Twitter@RobertKahn