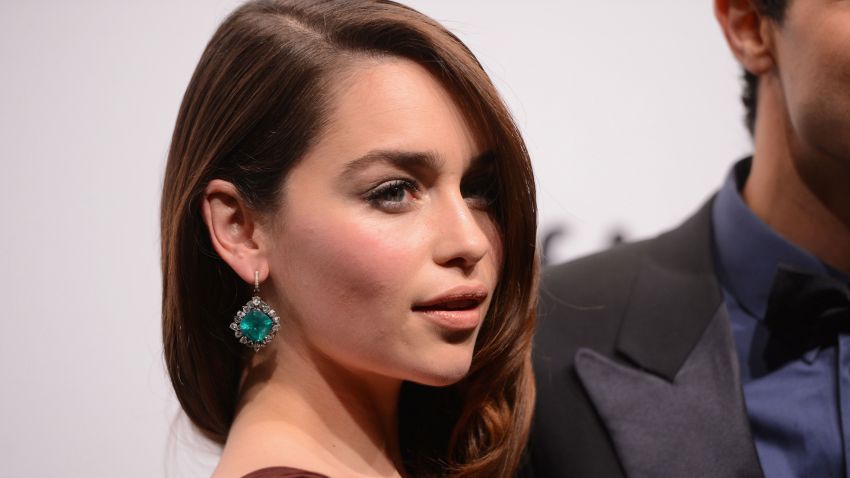 It may have been a genuine moment, or it may have been manufactured publicity, but either way: expect a rush on balcony seats at the Cort Theatre, where "Game of Thrones" star Emilia Clarke began previews this week in Broadway's new adaptation of Truman Capote's "Breakfast at Tiffany's".
Though ushers always try to put the kibosh on photo-taking at all Broadway houses, warnings apparently went unheeded earlier this week as Clark stepped, au naturale, into a bubble bath during a scene in which she brings co-star Cory Michael Smith back to her apartment, after he's injured riding a horse in Central Park.
According to the New York Post, Clark, as heroine Holly Golightly, is shielded by bubbles that afford her privacy from theatergoers seated in orchestra seats. But audience members in the balcony get a different view and "frantically snapped shots on their cellphones," sources told the paper.
On the "off chance" the incident was a bit over-dramatized, Gothamist reached out to show publicist Rick Miramontez, who confirmed it had occurred and replied: "The bathtub scene in Breakfast at Tiffany's is gorgeously done. Theatergoers are reminded that photography of any kind during the performance is strictly prohibited and offenders will be asked to leave the theater." Gothamist kindly republishes a Tweet sent from one witness during the first preview. #Pervy?
As Broadway.com notes, Clarke plays warrior princess Daenerys Targaryen on HBO's "Thrones," where she's also been known to walk naked into a hot bath. "The nudity she displays on that show is enough to make 'Tiffany's' look like a convent," they wrote.
Photo fever has been a problem on Broadway before, memorably in 1998 when Nicole Kidman made her debut, also at the Cort, in "The Blue Room."