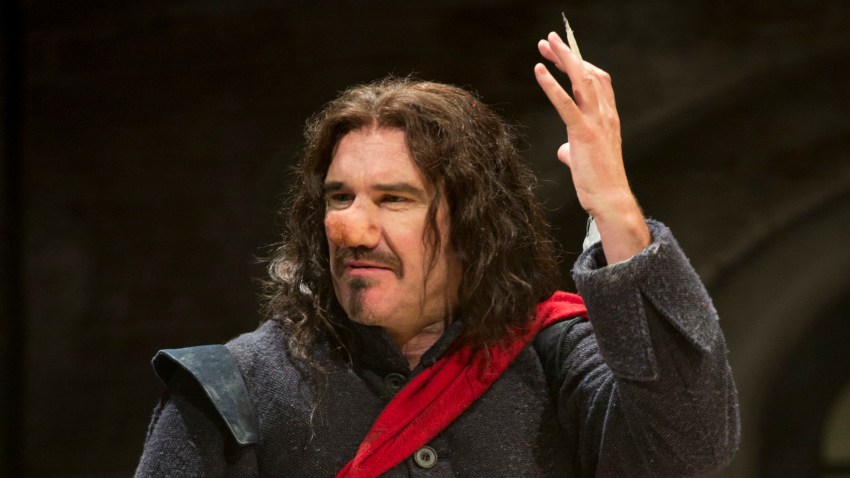 The Roundabout Theatre Company's new take on Edmond Rostand's 1897 swashbuckler "Cyrano" opened last night at the American Airlines Theatre, with critics generally acknowledging the swooshing sound of Douglas Hodge's performance.
Hodge "is as light and oxygenating as air,even as the pure physical impact of his performance sets you reeling," said The New York Times. Entertainment Weekly was similarly awed, noting that Hodge "tears his way around the stage as Cyrano, almost to the point of spitting while spewing the show's rhymed couplets."
Hodge, a Tony-winner for his cross-dressing turn as Albin in the 2010's "La Cage Aux Folles," dons Cyrano's schnoz through Nov. 25.
If Cyrano and Albin before him were over the top, the English actor's next role may give him the chance to one-up them both: Word came this week that he'll play Willy Wonka in the West End world premiere of "Charlie and the Chocolate Factory," beginning in May. That production will be directed by Oscar winner Sam Mendes ("American Beauty").
If you're curious about the protruding proboscis (pictured above) Hodge wears for "Cyrano," the AP has some helpful details about the nasty foam appendage, including the tidbit that it must be replaced after each performance, because of the effects of sweat and makeup.

Hodge had promised that the coarse prosthetic would not be just some sort of "comedy clown nose": "It should be something real, a disfigurement that makes him feel he can never be loved," he said before previews.