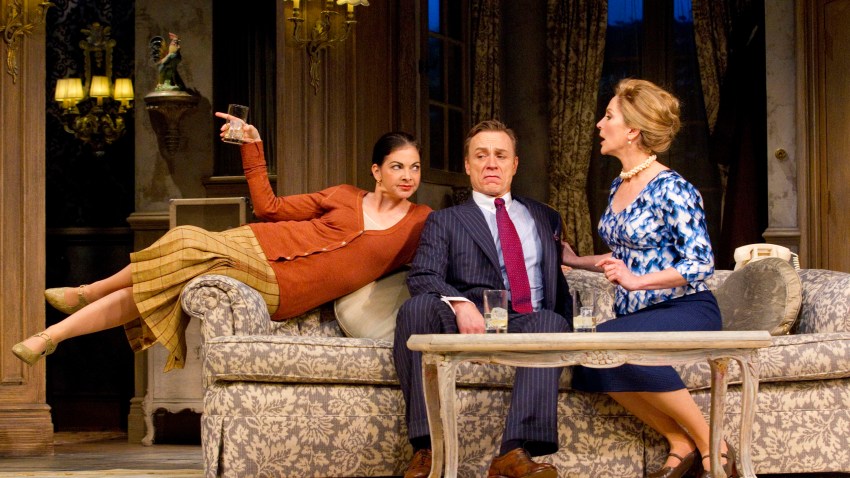 In "Don't Dress for Dinner," a two-act farce by the French playwright behind "Boeing-Boeing," a husband's plans for a romantic liaison with his mistress are flummoxed when his wife learns that her own lover -- the husband's good friend -- will be visiting for the weekend.
The Marc Camoletti play stars Patricia Kalember as Jacqueline, whose last-minute decision to stay home for the weekend disrupts spouse Bernard's (Adam James, "Dr. Who") plans for a romp with mistress Suzanne (the helium-infused Jennifer Tilly, "Bullets Over Broadway").
Spencer Kayden ("Urinetown") was just Tony-nominated for her role as Suzette, a chef with a penchant for extortion who gets drafted into playing the mistress, even though, if you're following, she's not. Ben Daniels, a 2008 Tony-nominee for the Roundabout's "Les Liaisons Dangereuses," is Robert, Bernard's friend and Jacqueline's lover.
"Dinner," on the Roundabout's Broadway stage at the American Airlines Theatre, runs through June 17.
Kalember was a series regular on NBC's "Sisters," as Georgie, the "stable" sibling in a cast that included Julianne Phillips, Swoosie Kurtz and Sela Ward. A working mom, Kalember phoned in from behind the wheel of her car, in Connecticut, after picking up her son from school: "I have a 15-year-old who refuses to take the bus." She navigated traffic, and our questions.
NBC4NY: As a guest star, you were in charge of Neal's commutation interview in the season finale of "White Collar." You were a judge on "Law & Order: SVU" for four seasons. Even Georgie had her act together. People seem to trust you.
KALEMBER: I'm in that phase right now. When I started out, I did prosecutors and things like that. Then I did mothers who suffer -- the children died, or they OD'd. Now, I've moved on to "the authority." Which is good. It's because I'm ... I don't know ... well-spoken. I'll take it.
NBC4NY: Does that translate to parenting?
KALEMBER: I'm the day-to-day pushover, but when the big stuff goes down, they don't want to cross me. Is that right? (Mumbling from behind her.)
NBC4NY: Is that confirmation from the back seat?
KALEMBER: Exactly.
NBC4NY: Farce is a change for you. Do you find it particularly difficult?
KALEMBER: Oh, man. Can I tell you, it is. I love doing it, and I love comedy, and I appreciate it when people realize how incredibly difficult it can be. Because it's a team effort. You are responsible for somebody else's laugh, very often, and if you work with a group that doesn't realize that, it can get really tricky ... I've done two comedies with Jerry Zaks ("Losing Louie" and "The Foreigner"). There's a rhythm to certain sections, and he says that when you're working together, it's like conducting a great piece of music. It's not even, "Oh, I get my laugh, you get yours." A piece at a certain point literally starts to sing, and you feel the audience going along with it. It's a joy, but it's not always easy to get there.
NBC4NY: OK, so let's have the "Dinner" plot in 10 seconds or less.
KALEMBER: OK ... I think it's a story about a couple who are trying to ... oh man ... a couple trying to have their respective mistress and lover over, and it all happens on the same weekend. And a cook is thrown into the mix, who's mistaken for one of the lovers. And it goes from there.
NBC4NY. Right, the cook: Spencer Kayden. And she gets to tango in the middle of the country-house, for some reason.
KALEMBER: She's one of the funniest physical comedians I've worked with, with a quirky sense of humor that really is individual to her. She's one of our best.
NBC4NY: This is comedy, but sustained for two hours, night after night. How do you do this if you're in even a slightly lousy mood?
KALEMBER: You know what? Some of the angriest people I know are comedians, and they work it out on stage. You don't have to be in a good mood. ... We're going through a period of time that's not the happiest. There are lots of people struggling with finances and housing. And I just really feel it's an evening where you can go and laugh. To be able to do that for people now is a great gesture. We're not curing cancer, you know what I mean?