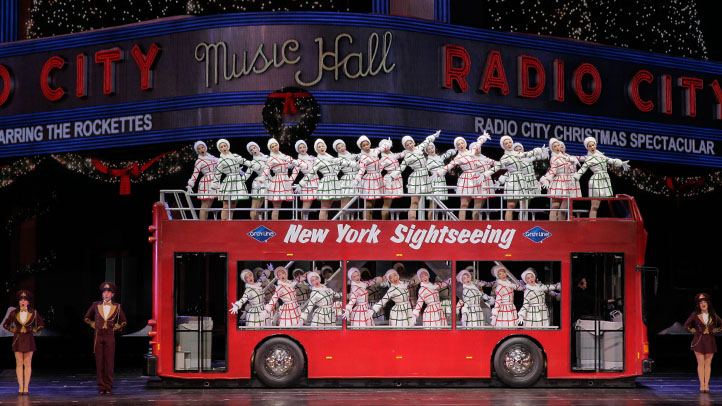 The following content is created in consultation with the Radio City Christmas Spectacular. It does not reflect the work or opinions of NBC New York's editorial staff. To purchase tickets for the Radio City Christmas Spectacular, visit RadioCityChristmas.com.
Made famous by the virtuosic Rockettes and their dazzling dancing routines, the show has expanded over the years to include countless colorful costumes, choreography and even set pieces that incorporate a double decker bus and an ice rink.
Today, the Radio City Christmas Spectacular is a fully immersive experience. Thanks to a ground-breaking new technology known as 3DLive, modern-day Rockettes are able to perform and interact with 3D elements (a first for a live theatrical setting), while the audience will feel like they are in the middle of all the action.
But beyond the staggering stats, technical wizardry and jaw-dropping special effects, the Radio City Christmas Spectacular remains New York City's most beloved Holiday show because of its breathtaking scenes, each radiating with the power of the holiday spirit.
Though there are too many packing the 90-minute show to list, let's take a look at our five favorites, from the classics to the brand new.
Snow
New for 2013, Snow features nine free-floating snowflakes that fly through the theater, transforming Radio City Music Hall into a winter wonderland. Filled with helium and controlled by motors, these GPS-enabled snowflakes swirl overhead while the Rockettes glisten on stage.
Living Nativity
A favorite since the show's inception, the Living Nativity recreates the first Christmas (from the Three Wise Men's journey to Jesus' birth) with an inspiring mix of music, pageantry and scripture.
Santa Flies to New York
You and your children will love this thrilling 3D ride through the skies of New York alongside Santa.
New York at Christmas
Perhaps the biggest scene in terms of sheer scale, New York at Christmas features an ice rink and a double decker bus (ridden by the Rockettes, naturally) that travels 37 miles on stage during the show's eight-week run.
Parade of the Wooden Soldiers
Arguably the cutest and most fun scene of the whole show, Parade of the Wooden Soldiers is also a classic. Watch the Rockettes as they don full soldier gear, dance and dodge cannonballs.
The Radio City Christmas Spectacular runs through December 30, 2013. Tickets can be purchased via
RadioCityChristmas.com
or Ticketmaster (866-858-0007) or at Radio City's Box Office (50th St. & Avenue of the Americas). For showtimes and prices visit
RadioCityChristmas.com
.