Taylor Swift got her nerd on for the recurring sketch "Ew!" on Wednesday night's episode of "The Tonight Show."
Sporting braces and big glasses, the pop-country superstar pretended to be a teenager next to a dress-wearing Jimmy Fallon for a mock TeenNick sitcom.
"My name's Natalie, and I'm 13, and I like to eat apricots, and I have a band-Aid collection," Swift said.
"Do you watch TV? My favorite show is 'Pretty Little Liars'," Fallon said.
"No, my mom hasn't let me watch TV since Miley Cyrus twerked," Swift said.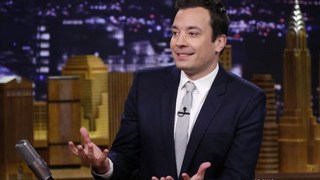 Top "Tonight Show" Moments
The two then showed off their dance moves to Selena Gomez's hit "Come and Get it."
Michael Strahan, Channing Tatum, Will Ferrell and Zach Efron have also appeared in drag for Fallon's sketch.
When Swift sat down for an interview, she talked about a scar on her leg from a hot glue accident she had as a child.
Swift also confirmed to Fallon that she will be performing at the upcoming MTV Video Music Awards, airing August 24.
Watch the skit above and part of the interview below.