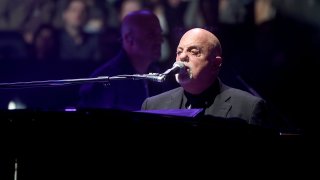 Billy Joel had seen the lights go out on Broadway and at Madison Square Garden.
His residency at the famed arena, which began in January 2014 and included 73 straight monthly shows, came to a pause in March 2020 as New York shut down during the COVID-19 pandemic.
For 20 months, the seats he'd normally fill were left empty, the piano he played was silenced, the stage he lit up was darkened.
Until Friday, when the regular crowd shuffled in and the lights came back on for Joel.
The homecoming began with a spotlight shining down on the 72-year-old Joel as he fittingly opened with the piano intro to "Miami 2017 (Seen the Lights Go Out on Broadway)," kicking off a concert originally scheduled for March 19, 2020.
"We're back at the Garden," Joel said as the crowd erupted.
"I want to thank you for waiting since March 19th of 2020. Sorry you had to wait. They shut everything down, but we're back," he said before going into "New York State of Mind."
The world may be a very different place since Joel's last Madison Square Garden concert. But the draw of his presence and music remained the same for a sold-out arena of roughly 20,000 fans, who had to show proof of vaccination to enter.
Friday's concert was the first of six make-up shows through April 2022.
It was Joel's 120th career performance at the Garden, extending his record for the most of any musical artist. The gap between Friday's performance and his 119th show -- held Feb. 20, 2020 -- was much longer than anticipated.
Joel recently was asked on SiriusXM's "The Howard Stern Show" whether being unable to perform during COVID was aggravating or a welcomed rest.
"It was kind of aggravating," Joel told Stern. "Part of it was aggravating. Part of it was very enjoyable because I got to be home with my kids for a long time. I got to know them. I got to hang out with them."
Joel also told Stern that despite being unable to perform during the pandemic he paid his band members their full salary for a year.
"I wanted to take care of the band," Joel said. "Cause musicians really took it on the chin. We couldn't work. We couldn't perform. We couldn't appear anywhere. We couldn't get jobs."
The band has been back together and back to work since August, having played stadiums in Boston, Orchard Park, Cincinnati and Texas.
Returning to their musical home at the Garden on Friday, Joel and the band sounded as if they didn't miss a beat, seamlessly going from hits like "Vienna" to "Allentown" during the two-hour, fifteen-minute set.
Joel capped a five-song encore with "You May Be Right," concluding his long-awaited return home to the Garden.
"Thank you, New York City!" Joel said before he walked off stage and the lights went out. Until next month.
SET LIST: Miami 2017 (Seen the Lights Go Out on Broadway); Movin' Out; My Life; New York State of Mind; Everybody Loves You Now; Zanzibar; Vienna; Allentown; Pressure; Downeaster Alexa; The Entertainer; She's Always a Woman To Me; Don't Ask Me Why; All for Leyna; Sometimes a Fantasy; River of Dreams; Only the Good Die Young; Nessun Dorma; Scenes from an Italian Restaurant; Piano Man. Encore: We Didn't Start the Fire; Uptown Girl; It's Still Rock and Roll to Me; Big Shot; You May Be Right.