When it comes to Fashion Week, New York is only the beginning. London recently wrapped its Spring 2011 shows, while editors and buyers continue on to Milan and Paris. From Burberry to Erdem, Christopher Kane and Paul Smith, here are some highlights from top names across the pond.
Christopher Kane

In just a few short seasons, Christopher Kane has become a sensation on Britain's design scene, and notably in Milan as well where he's taken the helm as head designer for Versace's diffusion line, Versus. This season the young and unpredictable Brit offered up an acid-hued, acid trip-like take on ladylike dressing—the kind inspired by Princess Margaret, whom Kane referenced for the collection. Vinyl-coated neon leather showcased Kane's bold irreverence toward all things demure, as seen in his skirt suits, and pleated shift dresses, while other fabrics took on exquisitely intricate patterns bordering on pyschelic.
Burberry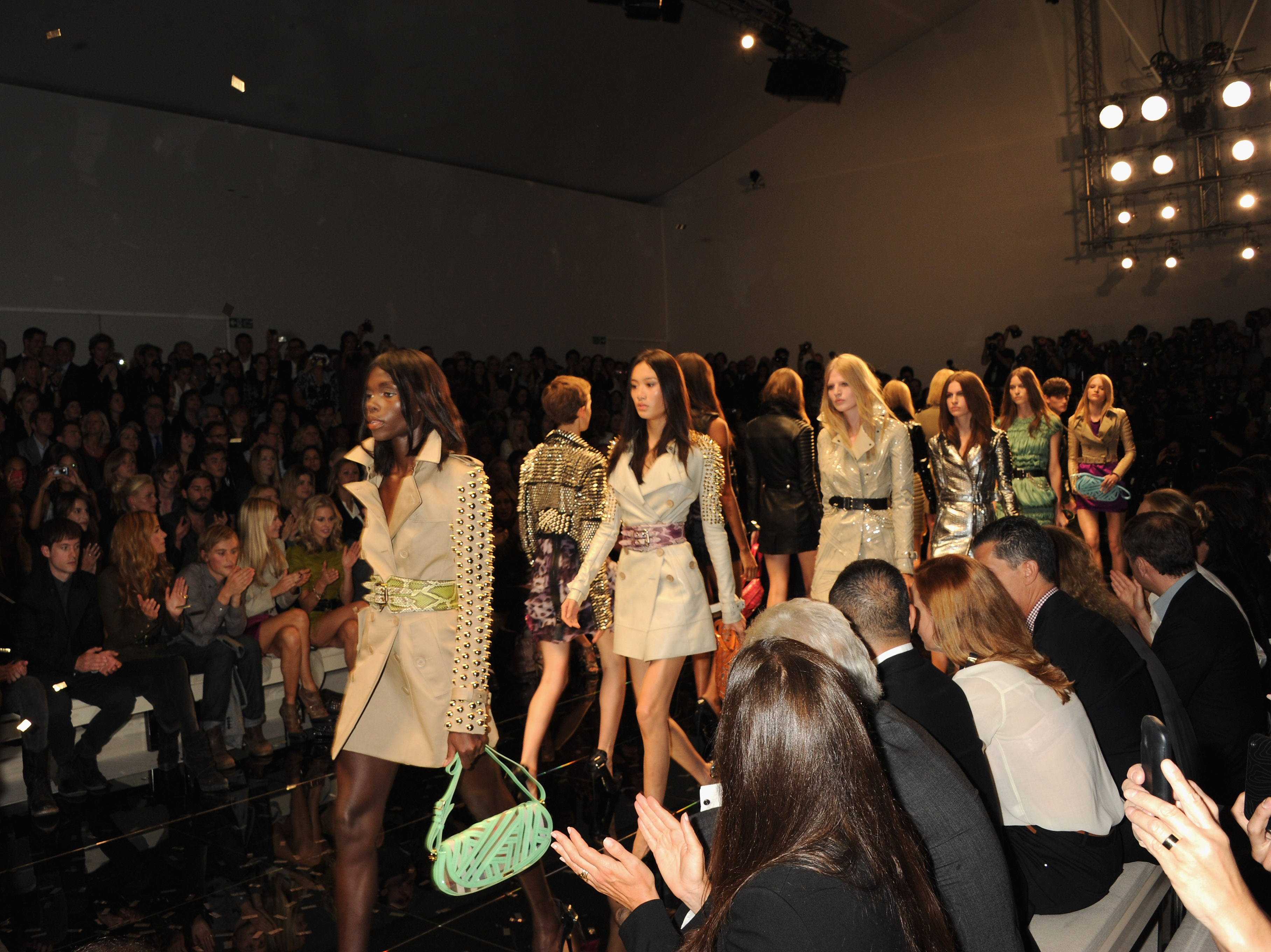 Christopher Bailey continued his adventurer-inspired theme this season, shifting from Fall 2010's quite literal takes on the aviator to embody the motorbiker, such as those outfitted by Thomas Burberry in the 1900's. The collection, dubbed "Heritage Biker," featured leather leggings and jackets—both biker and motocross-style, some classic, and others thoroughly dazzled-out with studs and accented with motocross quilting—while the classic trench got a re-write in the form of several shorter, leather-accented iterations. Moving from biker-chic to biker babe, Bailey showed off ruched satin dresses in minty, teal tones, while brightly-hued leather belts and clutches—orange, chartreuse, lime and turquoise—added pops of color to the overall tones of black and beige. Eschewing biker boots for sexy, sky-high booties (several of which caused a few models to stumble), Bailey nonetheless made it clear that while his woman may be a biker, she's a woman first.
Erdem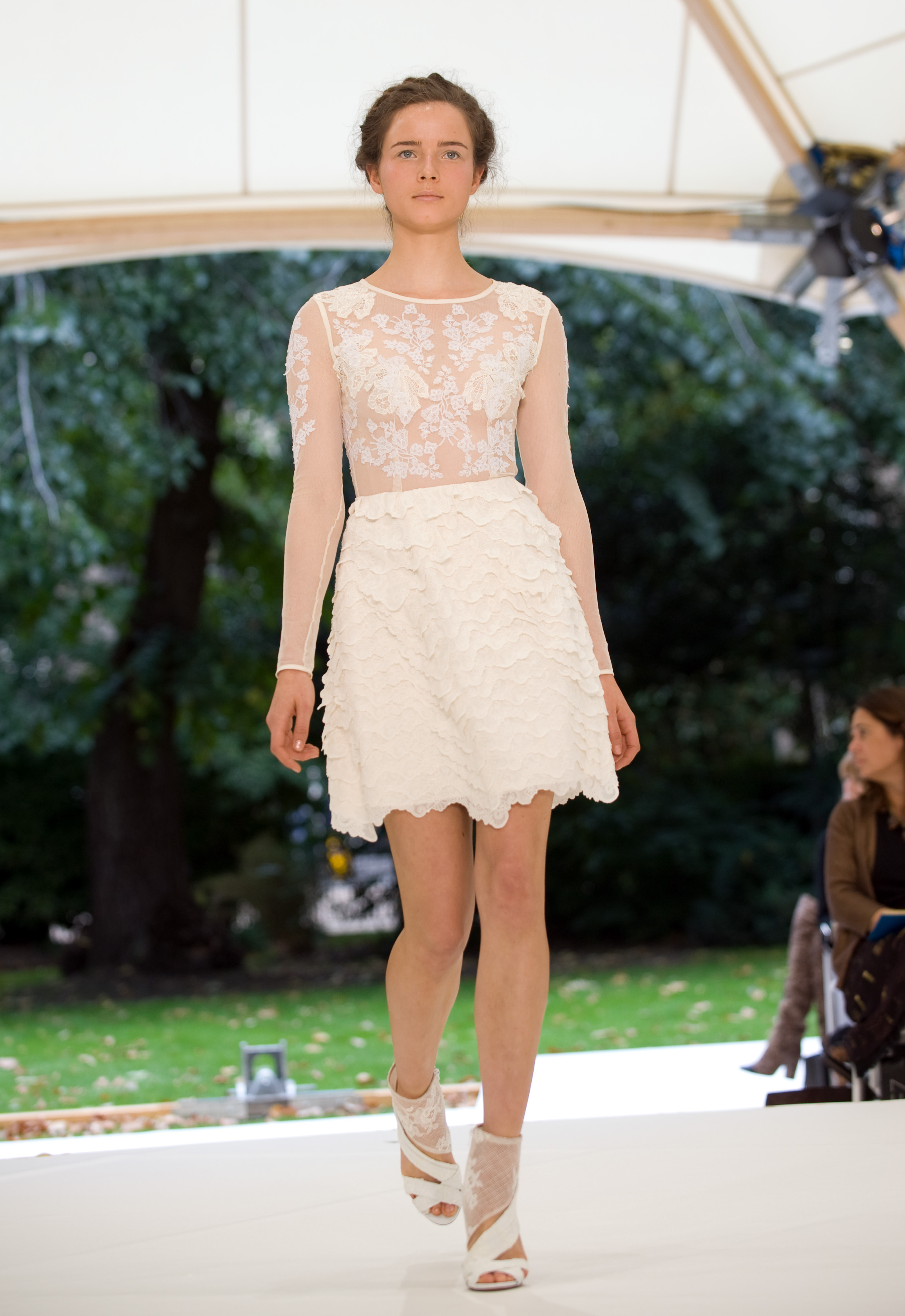 Canadian designer Erdem Moralioglu's visions of the Ballets Russes came to life in a timeless and romantic collection of garden prints and lace. Perhaps the most literal translation of the ballet theme were Nicholas Kirkwood's shoes that laced up the calf, while other iterations included lacy, long-sleeved bodices, full—yet wearable—skirts, and cream-toned lace. Bright, poppy prints and patchworks added explosions of colors to the frocks, while luscious garden florals rounded out the collection with a fantastic, ageless appeal.
Paul Smith's feminine borrowing of teddy-boy dressing was exactly that. Models took to the runway looking like they borrowed their shirts, pants, and jackets from their boyfriend's wardrobes—their rockabilly hairstyles even. Still, there was an undeniable femininity in the streamlined, unfussy tailoring of Smith's collection, from his tapered grey-sheened trousers to his shirtdresses, featuring polka dot prints and signature multi-colored florals that would look just as at home on the inside of a Paul Smith coat—something the men might borrow from the ladies.