Raphael Miranda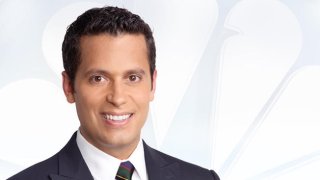 Raphael Miranda is the two-time Emmy ® award-winning meteorologist for NBC 4 New York.
In 2012, Miranda's coverage of Superstorm Sandy earned him his second Emmy. One of the most intense and challenging weather phenomenons of Miranda's career, he was an integral part of the wall-to-wall Sandy coverage produced by Storm Team 4, working round-the-clock to keep the public updated and informed. One year earlier, Miranda received his first Emmy for coverage of Hurricane Irene.
Miranda started his NBC 4 New York career in 2007, serving as a weather intern before moving into production and on-air roles. During his time at NBC 4 New York, Miranda has experienced and forecasted many extreme weather conditions, such as February 2010 when New York City received more than three feet of snow in one month, surpassing the previous February snow total record. He also covered the 2011 Halloween snowstorm which left thousands in the Tri-state area without power, as well as the Blizzard of 2016, which set a record for one-day snowfall in Central Park.
Miranda regularly appears on MSNBC and has also appeared on The TODAY Show, NBC Nightly News, Early TODAY, Weekend TODAY, and CNBC World. He has also appeared as a meteorologist on sister station Telemundo 47, delivering the weather forecast in Spanish. In addition to his fluency in Spanish, Miranda is fluent in Portuguese and has a working knowledge of French.


Born in Putnam County, Miranda grew up in Westchester County where his love of weather began. Growing up in "the woods," he was fascinated by Nor'easters and hurricanes.
Miranda graduated from New York University with a degree in Spanish, and has also received degrees from Brooklyn College and Mississippi State University in broadcast journalism and geosciences/meteorology.
A member of the American Meteorological Society, Miranda holds the National Weather Association Seal of Approval. He is also a member of The National Lesbian and Gay Journalists Association as well as the National Association of Hispanic Journalists. In addition, he is an active supporter of the LGBT organization "Live Out Loud", among others.
Miranda lives with his husband and family in New Jersey.