Did you get to spend much time outside to enjoy the beautiful, 70-degree weather earlier in the week? Well if you didn't — it may be a while before getting another chance.
A coastal storm brought chilly, windy and soggy weather to the tri-state on Friday, making most of the day a washout. And it doesn't look like it will improve all that much on Saturday.
The heaviest rain started to fall Friday evening and lasted throughout the overnight hours, before more scattered showers move through the area throughout Saturday.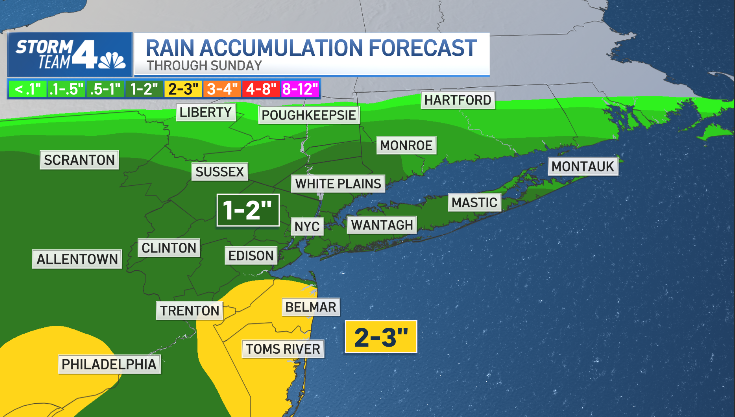 In addition to the rain, winds picked up overnight, with gusts up to 30 mph possible by Saturday morning. Gusts could reach 50 mph by midday Saturday, especially along the Jersey Shore, making for a chilly day.
Minor to moderate coastal flooding could occur. A coastal flood watch has been issued for Ocean County. One to three feet of water could inundate the coast and back bays around high tide from Saturday into Sunday. Check the latest weather alerts for your neighborhood here.
Showers don't really quit until Sunday morning, after about 48 hours of wet weather. By the time all is said and done, the tri-state could see 2-3 inches of rain (with more than 4 inches possible in certain areas), along with some pretty nasty wind, the worst of which will come Saturday.
Not enough dismal weather for you? There's a nonzero chance for some to the far north and west of the city to even see some snowflakes Saturday night. While it won't stick, and not a guarantee the flakes even reach the ground, still unpleasant to see the chance for any snow in May.
Showers may linger after sunrise Mother's Day but should clear out around the time for brunch, for all you who made plans to be with family. But expect winds to linger all day, as it slowly dries out by the late afternoon while remaining cloudy, windy and cool.
Things improve dramatically by the middle of next week, however.
After a few cooler days Monday and Tuesday, with temperatures in the 60 and partly sunny skies, expect plenty of sunshine and warmer temps into the 70s for the rest of the week, getting even better for the weekend.
Track any approaching storms using our interactive radar below.