It's becoming an unfortunate new feature of New York City's summer weather -- wildfire smoke from the West Coast billowing east, adding to the haze here and taking air quality to dangerous levels not seen in years.
More than 60 wildfires are currently burning across western states and Canada. As the smoke builds, it gets wrapped up in weather systems and transported across the country.
The smoke on Tuesday arrived in the New York metro area and it's expected to stick around for a few days until a cold front helps clear it out.
By early afternoon Tuesday, the smoke was strong enough to smell in parts of northern New Jersey, while the skies were tinted an odd yellow color.
Real-time Air Quality Index data from the EPA showed New York City's AQI as of 10 p.m. was 165 -- considered "Unhealthy" for everyone.
According to AQICN.org, a Chinese nonprofit that tracks air quality in more than 130 countries, that reading is the worst in New York City since at least the start of 2014. Historical county-by-county AQI readings from the EPA suggest that it could actually be the highest reading in Manhattan since a 167 reading in Oct. 2003.
As recently as last September, western smoke turned tri-state skies an oddly milky color.
The same phenomenon is happening now, as shown by an experimental U.S. government model known as the HRRR-Smoke model.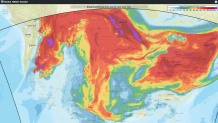 The National Oceanic and Atmospheric Administration, or NOAA, says the experimental 3-D model lets it simulate the dispersion of smoke over varied terrain.
Copyright NBC New York