What to Know
Rough weather battered the tri-state area again as summer came to an end, with more frequent lightning, torrential downpours hitting many
An NYC travel advisory remains in effect through Friday after the heavy rains; with another 2.02 inches since Thursday, this is now the sixth wettest September on record in the city
Higher elevation areas north and west of the city could see up to 3-4 inches of rain; the system should move out by Friday afternoon, making way for a glorious sunny stretch with temps in the mid-70s
Flooding downpours and thunderstorms battered the tri-state area again Thursday and into the overnight hours, drenching already saturated spots yet again and dumping more than another 2 inches of rain in New York City.
This is now New York City's sixth wettest September on record, with 9.75 inches of rain so far. The wettest September in the city ever came in 1882 when 16.85 inches of rain fell in Central Park. Rain was still falling for some just before dawn.
A slow-moving cold front triggered this latest system, which hit New Jersey first Thursday afternoon and made its way to the city by nightfall. It's expected to move across Long Island last, later Friday afternoon.
Ultimately, much of the tri-state will get between 1-2 inches of rain before the storm moves on. Further eastern parts of Long Island could see less than an inch, while higher elevation areas further north and west of the city — in the Catskills, Poconos and northern New Jersey — could see up to 4 inches.
Skies are expected to clear by Friday afternoon but Mayor Bill de Blasio said he wasn't taking any chances after the devastation brought on by the remnants of Ida earlier this month that caused widespread historic flooding and deaths.
With this in mind, the city had rolled out advisories for residents. Aside from sending all the teams and crews out to prepare for the storm, "the public communication is entirely different" this time around.
"We are telling people to expect the very worst now, there is no such thing as business as usual anymore. We are telling people in basements to get ready, to get out of your basement on short notice. That's something that would not have been an issue in the past before Ida. We are telling people to get ready to avoid the places where there might be flooding, which again, on 1 inch of [expected] rain...I wouldn't have imagined it would have been a big issue," de Blasio said.
The mayor went on to say that everyone should prepare for the worst even if the weather event is expected to not be severe.
"The difference now is we have to assume [the storm could be] much worse and much quicker," he said. "So we are putting people on alert to be vigilant all day and if things change, we are going to put out a whole different level of alert and activate a lot more personnel. It's getting people into the mindset that even when it appears to be a smaller event could turn into a bigger event quickly."
New York City has also issued a travel advisory through Friday, citing the potential for torrential rain at rates up to an inch an hour and 60 mph wind gusts.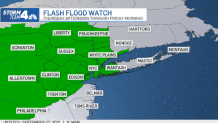 ---
Check the latest severe weather alerts for your neighborhood here
---
Once the system moves out Friday, we've got some good news.
The weekend is expected to be downright gorgeous, with highs in the mid-70s both days and sunny skies. No rain is in the immediate forecast for next week either, and temperatures should be in the 70s with less humidity than we had this week.
Track any approaching storms using our interactive radar below.
Copyright NBC New York