A powerful weather system moved through the tri-state area Thursday afternoon and overnight into Friday, punishing parts of New Jersey and New York with more than 3 inches of rain within 24 hours, and prompting water rescues in the Garden State.
Several towns, including River Edge, Milford and Lodi, remained under several inches of water almost 12 hours after the rainfall let up. Overhead views from Chopper 4 Friday morning saw hundreds of flooded vehicles across the region, in addition to countless homes and businesses trying to dry out.
Reports of several rescues came in early Friday as unsuspecting New Jerseayans were caught off guard by the rising waters.
"When I got up this morning, and I saw all the police cones out here, I said 'what happened.' Then I looked down here and I see all that flooding. Now, we all dealt with Hurricane Ida seven months ago and we lost everything. So seeing this again freaked me out," one Lodi resident told NBC New York.
The Passaic River overflowed at one point, flooding the area around the Bottagra restaurant on Wagaraw Road. About 300 people were inside at the time and had to be helped out amid the rising waters.
Most rivers and creeks flooding stayed below flood stage, except possibly the Passaic River at Pine Brook. That waterway will continue to rise Friday and stay in minor flood stage through the weekend, which isn't unusual for it.
The highest rain totals were concentrated in New Jersey's Bergen and Passaic counties, as well as New York's Westchester and Rockland counties. Ridgewood, New Jersey saw the most, with 3.67 inches of rain in just a day.
New York City's Central Park, however, saw less than an inch.
Flood warnings for more than a dozen counties extended well into the next morning. Check the latest weather alerts for your neighborhood here.
The excess rain runoff caused the flooding of numerous streams and other flood-prone locations, the National Weather Service said. It was estimated to take several hours for all the water to drain.
Here Are Some Local Rain Totals as of 5:30 AM
---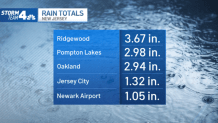 ---
---
Winds were gusty, reaching 30 mph or higher, Thursday afternoon but eased later in the evening. The city's Department of Buildings urged property owners to ensure they took adequate precautions ahead of the anticipated high gusts.
The good news: Friday is looking good for the Yankees game that was postponed by the weather a day earlier, and next week should feature some spring highlights.
The weather improves slightly with temps expected in the mid-to-high 50s Friday and Saturday under mostly cloudy skies.
Next week is a much better story. Right now, we're looking at a sunny (or mostly sunny, at least) stretch of days with temperatures ranging from the 60s to the low 70s.
Track any approaching precipitation using our interactive radar below.
Copyright NBC New York