A powerful storm system is expected to sweep through the tri-state area Thursday afternoon and evening, threatening to bring damaging straight-line winds and heavy rains after setting near-record or record-high temperatures for the day in many spots.
Thursday brought the warmest weather to parts of the tri-state since mid-September of last year as the mercury soared into the high 70s and even high 80s in spots by early afternoon, which is about 20 degrees above normal for this time of year.
Newark, New Jersey, tied its daily record set in 1941 at 88 degrees, while nearby Teterboro Airport saw similar steamy temps. Islip, on Long Island, also tied its record high of 73 degrees. Central Park was a balmy 77 degrees as of 3 p.m., according to the National Weather Service, well below its 85-degree record set in 1941 but still the warmest it's been in the iconic park in nearly seven months.
An onshore wind kept temperatures in the 60s along the immediate coast.
Now the storms are moving in.
A cold front late in the day brings a line of showers and thunderstorms likely between 3 p.m. and 7 p.m. They entered northwest New Jersey and New York's Sullivan and Ulster counties first, then hit the NYC metro area just after 5 p.m.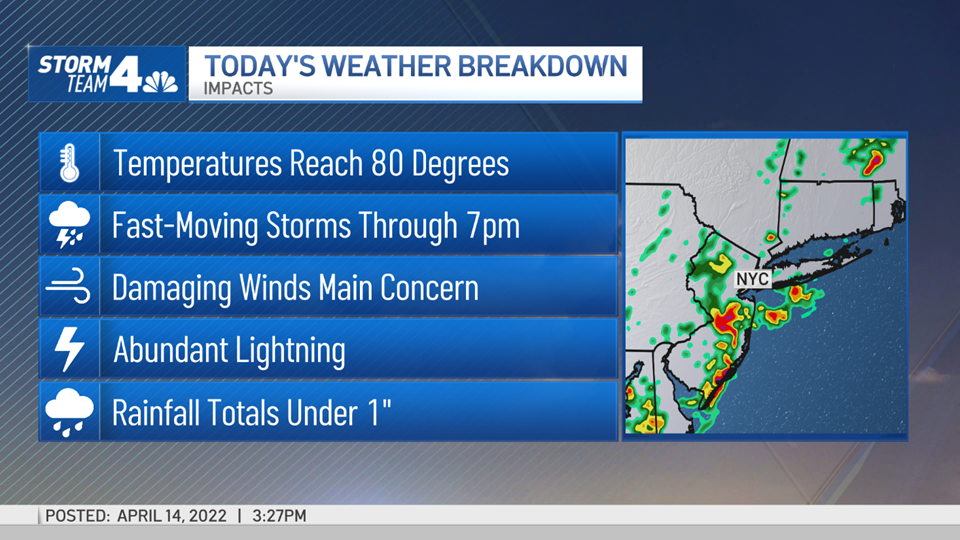 The fast-moving system should move out over eastern Long Island last, around 7 p.m., weakening as it goes.
The chance of severe weather for the tri-state increased over the course of the week, though, and stretches from Philadelphia, up through central and northern New Jersey, across New York City and up into Connecticut, based on the latest forecast.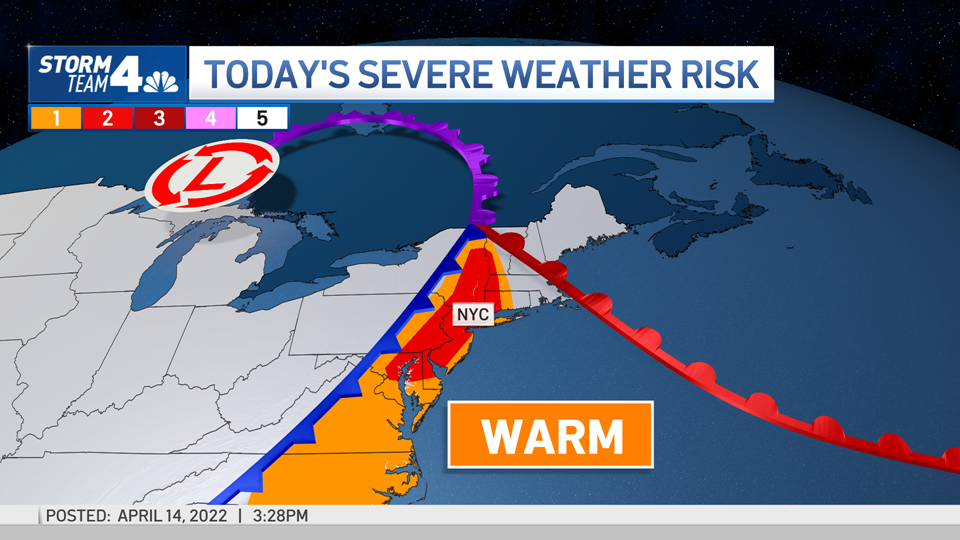 The primary threat at this point is straight-line wind gusts of 60 mph or higher. Lightning is also expected. The storms were speeding along at 40 mph, so most spots should see well under an inch of rain. Isolated areas could see up to an inch, which is where minor flooding could happen. Tornadoes aren't likely but can't be ruled out.
Large hail also isn't expected, though small pea-sized hail could fall if the storm intensifies enough. Check the latest weather alerts for your neighborhood here.
The line of storms that is developing is rather broken, so not everyone will get a hard hit.  For those that do, the storms will be in and out quickly.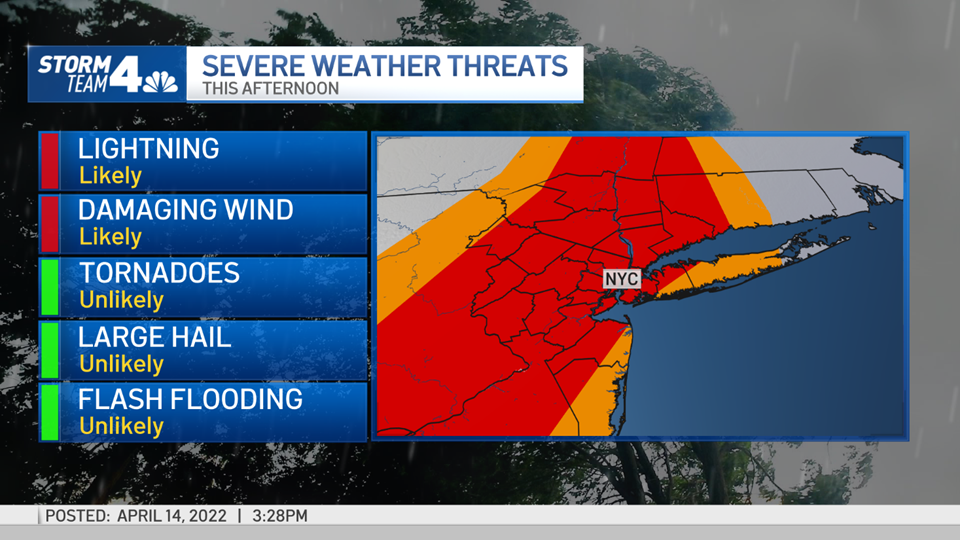 Conditions will dry out later in the evening as the line progresses from west to east, leaving cooler temperatures and light scattered showers in their wake.
Friday and Saturday will be mild, with temperatures in the mid-to-upper 60s.
Another cold front moves through Saturday afternoon, bringing showers in the evening, followed by cooler-than-average temperatures from Easter Sunday through most of next week.
Track any approaching storms using our interactive radar below.
Copyright NBC New York