Thursday is set to be the third straight day of rain for the tri-state, making for a saturated official start of summer — although that's set to change this weekend, when summer-like weather arrives.
After steady rain showers dampened Long Island and parts of the city Wednesday, storms are expected to fire up in western New York and central Pennsylvania overnight. Those storms will try to move through the tri-state area Thursday morning, but the stable air will cause them to fizzle out and weaken for the most part.
The best chance for rain will be in the morning west of NYC. Through the day, rain will fade as it moves east, leading to drizzle, fog and clouds for most. By the time the evening commute comes around, some may be facing isolated showers around the NYC-area, but most of the wet weather will remain to the west of the city.
---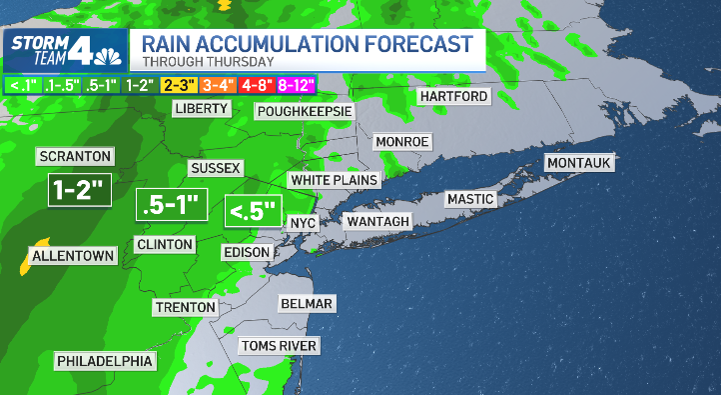 ---
By the time the storms finally come to an end Thursday, the city will see less than a half inch of rain, although places further west will get higher totals.
Check the latest weather alerts for your neighborhood here.
Temperatures Thursday should stay about 10 or so degrees below average, with highs expected to linger in the and low 70s.
The wet weather moves out by Thursday night, paving the way for high pressure to take over for the weekend. A more summery feel returns to the New York City area by Friday as highs reach the low-80s under mostly sunny skies.
By Saturday, the weather will be downright summer-like. It will be humid, though, and it'll stay humid through Sunday, with temperatures in the mid 80s. Monday stays muggy with showers likely, but a front clears and sets us up for a beautiful, less humid and more comfortable Tuesday.
Track any approaching weather using our interactive radar below.
Copyright NBC New York