Rain starts to clear out for much of the area surrounding New York City by the early afternoon hours on Saturday, but the storm relief is temporary as strong wind gusts pick up -- some as high as 50 mph.
Rain lingers through the afternoon for parts of Long Island and Connecticut, the latter expected to see the rainfall turn to snow.
Up to 2 inches of rain could fall by the time the system moves out. Precipitation aside, winds will quickly pick up Saturday as the storm slides through, gusting up to 40 mph in and around the city and potentially higher near the coast.
While this storm is expected to bring mostly rain to the tri-state area, some higher elevation points north of New York City could see rain briefly change over to snow, including interior portions of Fairfield County in Connecticut, as well as the eastern Hudson Valley and the Catskills.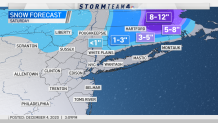 Conditions should start to clear late Saturday, though the weather will remain on the brisk and blustery side with wind chills falling into the 20s. Expect Sunday to stay dry.
Temperatures are expected to stay in the low 40s through the early part of next week before inching back up near 50 degrees on Thursday and Friday.
Copyright NBC New York