Multiple severe thunderstorms moved through parts of the tri-state Monday evening, with the chance for wind damage and torrential downpours for some areas — hitting during the height of the evening rush for those impacted.
Rough weather began overtaking parts of the tri-state around 3 p.m. and lingered into the evening, finishing by around 8 p.m.
Several severe thunderstorms warnings were issued earlier for various parts of the tri-state, including most of New York City. Almost the entire rest of the area was under a severe thunderstorm watch until 8 p.m.
Storm Timeline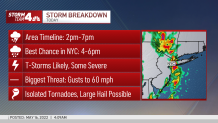 ---
Check the latest severe weather alerts for your neighborhood here and get real-time transit updates here as the storms hit.
Wind damage from gusts up to 60 mph is the primary threat at this point and could tear down power lines and tree limbs, causing scattered power outages. Isolated tornadoes and quarter-sized hail, which could ding cars, are also possible, as is flash flooding, especially in low-lying urban and other vulnerable areas.
Confidence had only increased by mid-morning Monday about the damaging winds, which appear most likely to hit western New Jersey counties and parts of eastern Pennsylvania. Parts of Sussex County, New Jersey, were without power after the storm downed trees, including at least one that was struck by lightning. Half-inch hail was also reported.
Severe Weather Threats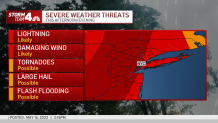 ---
The entire tri-state area also falls into the possible zone for tornado risk, though the threat is greater north and west of I-95.
While much of the tri-state, including New York City, were projected to see the worst of the storm's track, much of the storms stayed north and west of the city. There were showers and rumbles of thunder at times in the city, but not to the same degree as those further north felt, where the line of severe storms hit.
Severe Weather Risk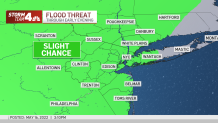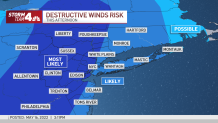 ---
Damaging Hail, Tornadoes Possible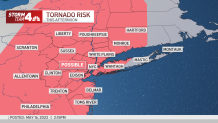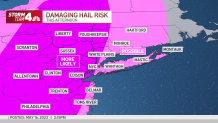 ---
Thunderstorms then moved eastward across Long Island and southern Connecticut later Monday evening, weakening as they moved along.
Any severe weather should move out of the tri-state area entirely by about 9 p.m. Monday. Conditions turn quieter after that, as a refreshing breeze takes over Tuesday with comfortable temperatures and mostly sunny skies.
The rest of the workweek looks good, too, with the mercury expected near or cooler than average -- though in the low to mid-70s.
And if you're looking for more of a summery feel, you don't have long to wait. Temperatures are expected to vault to the mid-80s by Saturday, a near 10-degree jump from Friday's anticipated highs. They fall back to the mid-70s Sunday.
Track any approaching storms using our interactive radar below.
Copyright NBC New York