A storm threat from a line of late evening thunderstorms swept over the tri-state Monday evening, mainly hitting New Jersey, following a rather damp start to the morning, Storm Team 4 says.
Morning showers tapered off by the early afternoon for a reprieve before bouts of severe weather threatening to bring damaging wind gusts and large hail moved in.
The first round of severe thunderstorm watches was issued around 2 p.m. for much of northern and central New Jersey. The next batch started coming through after 5 p.m. Severe thunderstorm warnings were issued for multiple counties in New Jersey, including Atlantic, Burlington and Ocean counties until midnight. Several other counties in state also had warnings throughout the evening.
Lightning is also likely, mainly south of New York City, as the storms move through. Just last week, a 70-year-old man was killed by lightning at a Burlington County, New Jersey, golf course.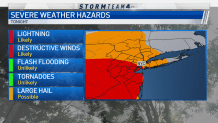 A few showers could linger into the day on Tuesday before very dry air takes over, and temperatures are around average for this time of year. Wednesday looks to see the sun again and highs in the high 70s. That beautiful stretch of weather should continue until Saturday night when the threat of more thunderstorms returns. Humidity will return as well, with highs bouncing into the mid-80s and staying there for what will be a very warm and sunny Father's Day.
Track the approaching storms using our interactive radar below.
Copyright NBC New York