A powerful line of thunderstorms tore across parts of the tri-state area overnight, unleashing torrential rain on parts of New York City and New Jersey as the peak morning commute got underway.
Wind gusts topping 40 mph and pea-sized hail had been possible in spots from Brooklyn and Queens to Suffolk County and parts of Connecticut, though early reports indicated no immediate severe weather damage. The heaviest rain fell overnight and moved out quickly, ebbing in the city by around 7 a.m. even as skies remained dark.
Ultimately, a widespread 1-2 inches of water accumulation is expected throughout the New York City area. Isolated locations — generally to the southwest of the city — could pick up around 3 inches.
Parts of central to southern New Jersey were expected to see the most rainfall, stretching from Hunterdon and Somerset counties down to the Philadelphia area.
Severe thunderstorm warnings for parts of the Garden State expired early, but flood advisories remain in effect for a number of counties in all three tri-states. Check the latest severe weather alerts for your neighborhood here. Find real-time commute updates for all your key transit sources here.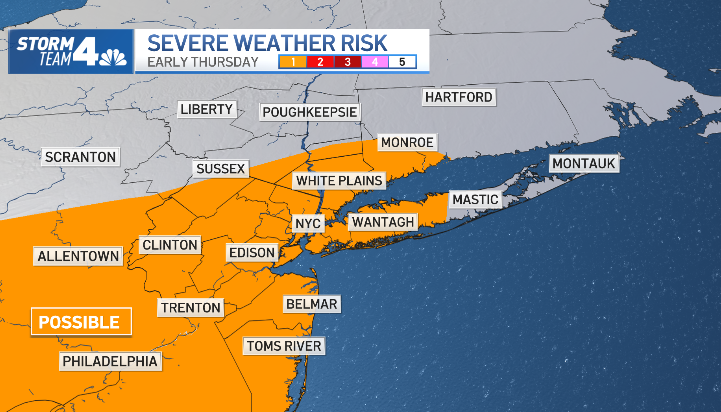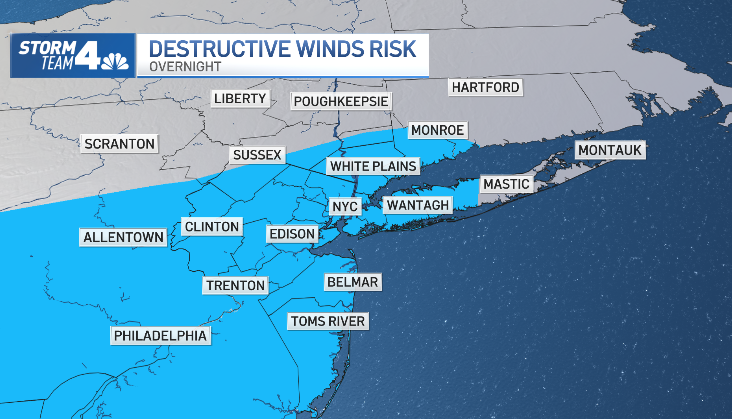 Once the rain moves out, Thursday afternoon turns quite pleasant, with afternoon highs in the upper 70s to near 80 degrees. Friday features more of the same. Rain returns to the area on Saturday, and is possible on Sunday as well, though neither day is expected to be a washout. Clouds will dominate though, along with cooler temperatures in the low-to-mid 70s.
Track upcoming weather using our interactive radar below.