What to Know
Heavy rain and ice could present a problem for some around the tri-state this weekend
The storms roll in during the early morning hours on Saturday, and the rain sticks around through the afternoon
The National Weather Service has issued a winter weather advisory for parts of northwestern New Jersey
Heavy rain and even icing could present problems for some around the tri-state this weekend, Storm Team 4 says.
Light rain that moved into the area on Saturday morning was expected to become heavy and steady around noon, with a few thunderstorms possible, Storm Team's Raphael Miranda said.
Temperatures may be cold enough in northwestern New Jersey for a few hours of freezing rain as the showers begin. As a result Sullivan, Ulster, Orange and Sussex counties may face difficult and dangerous travel conditions as the freezing rain comes down.
The National Weather Service also issued a winter weather advisory for parts of that region.
Along the shore, minor to moderate flooding at high tide Saturday morning was possible, Storm Team 4 said, though it wasn't entirely due to the storm (a new moon combined with solid on-shore flow contribute to that). A coastal flood advisory was issued for Long Island and the Jersey Shore.
As for the city, expect to see entirely rain — but a lot of it, with between 1-2 inches falling before the storm moves on. The worst of the storm is expected between noon and 5 p.m. Saturday, with heavy downpours expected in and around New York City.
There is some good news: The wet weather should dry out around 6 p.m. Saturday, Miranda says, and we're not expecting any more storms until the following weekend, when there could be a rain or snow chance.
Temperatures will also stay slightly above average with highs in low to mid 40s throughout the entire work week, with partly cloudy skies.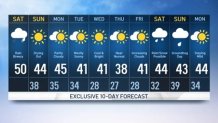 Worried about your commute? Check real-time updates from all your key transit sources below.
Copyright NBC New York