Looking for when will be best to get away for Thanksgiving? If you don't time your travel right, going "over the river and through the woods" may lead to a commuting headache.
A pre-holiday storm rolls in Tuesday, bringing rain and gusty winds. It is important to note: Before impacts start in the NYC area and the northeast, the storm will hit much of the Midwest — so if your Thanksgiving destination is anywhere from Chicago to Atlanta to D.C., travel on Tuesday will likely be impacted.
The precipitation and gusts will arrive in the tri-state during the afternoon and evening hours, particularly impacting the evening commute. Expect some travel delays to pop up, whether it be from traffic on wet and rainy roads, or flights getting pushed back from the inclement weather. Those delays could stretch into Wednesday morning as the rain and winds continue, and perhaps get even heavier.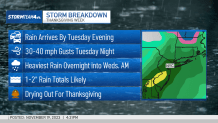 ---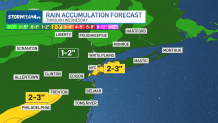 ---
---
The system is expected to dump about one or two inches of rain in all, with some isolated areas seeing more. The heaviest rains and winds are set to come Tuesday night into Wednesday morning. For some higher-elevation areas far north of the city, in places like Sullivan County, there's a chance snow could mix in Tuesday night. But that will quickly change over to rain, so don't expect to see any accumulations.
Winds will be most powerful overnight into Wednesday, peaking near 30-40 mph while most people are asleep. Gusts will stay at that level early Wednesday, but should die down by the afternoon and evening — allowing for the balloon inflation to go ahead as planned.
New York Gov. Kathy Hochul has urged caution for the extreme weather that is forecasted, especially for western and northern portions of the state.
"I just want to remind everybody to be vigilant. We're expecting freezing rain, snow accumulations, high winds – everything you would not want to see as you're heading out for your holiday travels. But the warnings are out there, and I'm asking everyone to heed them at this time," Gov. Hochul said.
NYC Emergency Management issued a travel advisory for Tuesday through Wednesday amid the wet and windy conditions, warning of the potential for minor flooding in low-lying and poor drainage areas. Coastal flood advisories were in effect for NYC, Long Island and the Connecticut shoreline, as strong winds are expected to drive up water levels, especially during Wednesday morning's high tide.
"This week, as we gear our focus towards family, friends, and all of the things we're grateful for, New Yorkers should also remember to keep an eye on the weather," said New York City Mayor Eric Adams. "We are preparing for heavy rains and strong winds over the next few days, which means everyone should bundle up and wear extra layers when heading outside. If you are traveling, please leave room for extra travel time and remember to check on friends, relatives, and neighbors."
Fortunately, all the nasty weather clears out by later Wednesday morning, as many people start hitting the roads or heading to airports. Then any possible (probable?) delays would be due to the sheer volume of people traveling, which experts have said could become the busiest holiday travel day ever.
For Thanksgiving itself, the forecast is much better. Skies will be clear as the tri-state dries out, though it will be on the colder side. Highs will only reach the low to mid-40s, making those annual football games and turkey trots a bit chillier than normal.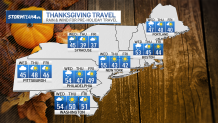 ---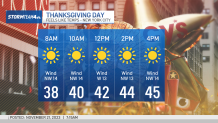 ---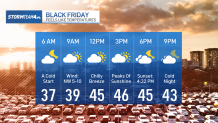 ---
And while Black Friday isn't quite what it used to be in terms of in-person shopping, those venturing out for deals that day should bundle up as well.
Overnight and early morning highs likely below freezing, and it will only reach the low 40s by the afternoon. Sounds like a good day to stay home and eat some leftovers.
The back end of the holiday weekend looks decent for getting back home, though there is a chance for showers starting late Sunday night into Monday. But that would have minimal impact on roads or flights, no major storm is brewing that would snarl travel Saturday or Sunday.
And looking ahead to the lighting of the Rockefeller Center Christmas Tree, it's looking cool and dry, with highs around 45 during the day — so anyone planning on viewing in person should plan on bundling up a bit!
See below Storm Team 4's exclusive 10-day forecast (as well as some Thanksgiving weather fun facts):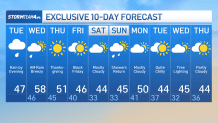 ---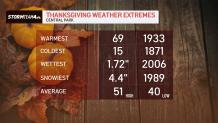 ---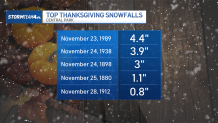 ---
Copyright NBC New York