What to Know
A winter storm will bring a mix of rain and snow to the tri-state area Saturday evening

Light snow fell overnight Thursday into Friday morning; little to a trace of snow fell in NYC, a bit more accumulation north and west

The second storm arrives Saturday night and will continue through Sunday; suburbs could see significant snow
A winter storm will bring a mix of rain and snow to the tri-state area Saturday evening — with mostly rain expected in the city, but significant snow and ice likely to the north and west, Storm Team 4 says.
Snow will be heading to the area around 5 p.m. Saturday, but will likely turn to rain in New York City. The city is expected to see around 1 to 3 inches of snow and ice, while the coastline will likely see less than an inch, according to Storm Team 4.
Central New Jersey, Rockland, Westchester and Fairfield counties could see around 3 to 5 inches of snow and ice, Storm Team 4 says. Northern New Jersey, the Hudson Valley and western Connecticut, meanwhile, are expected to see anywhere from 5 to 8 inches.
More than a foot of snow and ice is possible further north, in the Poconos and the Catskills, Storm Team 4 says.
Ice will become a concern overnight into Sunday morning in places like Orange County and Sullivan County as snow changes to freezing rain and sleet.
More rain, meanwhile, is expected for much of Long Island and New York City, parts of northeast New Jersey and coastal Connecticut on Sunday morning, according to Storm Team 4.
An extended period of sleet and freezing rain is expected across interior northern New Jersey, the Lower Hudson Valley, and northern Fairfield county Sunday morning. The precipitation will wrap up flate Sunday morning into early Sunday afternoon. Standing water could freeze Sunday evening, making driving conditions dangerous as temperatures drop Sunday night, Storm Team 4 warns.
The weekend storm, the second in a matter of days for the region, triggered winter storm watches and warnings for virtually the entire area. Check the latest severe weather alerts in your neighborhood here.
As of Friday afternoon, winter storm warnings were issued for Fairfield County in Connecticut and for large swaths of northern New Jersey and the Lower Hudson Valley. A winter storm watch was in effect for much of the rest of the tri-state.
New Jersey Gov. Phil Murphy has issued a state of emergency to go into effect noon Saturday, and the state's emergency operations center will be activated at that time. He urged residents to stay in their homes and avoid driving on the roads, and has instituted a restriction on commercial travel on many highways.
Recognizing people could get anything from rain to up to a foot of snow, depending on where in New Jersey they are, Murphy said "the bigger culprit for this storm, we believe, will be the potential for ice and freezing rain, and the expected severe drop in temperatures on the back end as this system moves away later Sunday."
The state's transportation department and utilities were preparing for power outages and black ice. Drivers who do somehow wind up on the roads were warned to stay behind trucks treating the roads and to not pass them.
"There is inevitably a motorist that thinks they can get around a snow plow train in that left unplowed lane. And I can tell you, that is not a good idea," said New Jersey State Police Col. Patrick Callahan. "I stress let patience rule the day Saturday and Sunday."
NJ Utilities Prepare for Winter Storm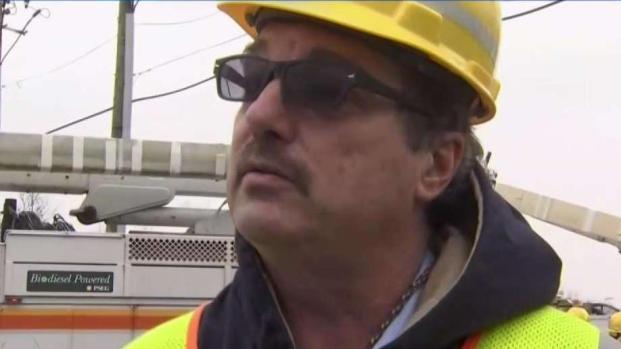 In New York, Gov. Cuomo announced a tractor-trailer and bus ban on the New York State Thruway (except for I-95 in Westchester and Bronx) and most interstate highways beginning at 3 p.m. Saturday, to last through the duration of the storm.
New York City Mayor de Blasio said at a Friday briefing that Sunday is expected to be a total mess, with "a lot of ice, flooding as well" and urged people to plan ahead so they're not competing with salt and sanitation trucks on snow-clogged streets.
"Conditions can get really difficult and we know we've seen this in other storms -- the sanitation department can do extraordinary things if there's not traffic blocking them so their work is going to begin as soon as snow accumulates," de Blasio said. "Let's get out of their way to help them do their work."
"We can see tree limbs freezing and breaking, downed power lines, sidewalks will be very messy," said Deputy Mayor for Operations Laura Anglin.
NYC Prepares for Worst in Upcoming Storm
Department of Transportation Commissioner Catherine Garcia said the city will have nearly 700 salt spreaders and 1,600 plows ready at the start of the storm. She said those will likely be primarily needed Saturday night, but that they'll likely keep running through Monday "because the only thing we have that's going to attack the ice is the salt."
Joseph Esposito, the outgoing commissioner for Office of Emergency Management, urged residents to sign up for Notify NYC to stay informed of updates relating to the storm.
Air, rail and commuter travel could see changes in service through the weekend. Customers are urged to check their agencies for the latest.
Even a slight shift in track could dramatically change final totals, Storm Team 4 cautions. A slight shift to the north would bring in more rain, while a slight shift to the south would bring in more snow. Stay with Storm Team 4 for the latest.
As the storm moves out Sunday, an arctic blast brings in the coldest air of the season, dropping temps into the single digits overnight into Monday with wind chills making it feel like 20 degrees below zero in spots.
The weekend system follows a much weaker storm that hit overnight Thursday into Friday; it didn't bring much accumulation, but it dumped enough to make roads slick for the morning commute.