Winter is over, but it certainly doesn't feel that way, with a second day of record-low temperatures for New York City recorded Tuesday after Monday's more frigid chill.
Temperatures climbed to the mid-30s across much of the area by mid-afternoon but it was little relief following early temps that broke daily records for cold at LaGuardia and JFK airports as well as in Islip. The 24 and 25 degrees reported at the two Queens air hubs broke records that have stood for the last 63 years.
Central Park didn't make the cut Tuesday, but it did on Monday, notching a high of 32 degrees that beat the old record of 34 degrees set on that date in 1893. Newark, Bridgeport, Islip and Poughkeepsie all broke decades-old records for cold as well.
Wind chills were once again in the single-digits or low teens Tuesday, though high gusts made it feel far colder than just around the freezing mark for much of the day.
The eventual warmup made it slightly more tolerable than Monday's weather, but it was little consolation. The average highs for this time of year are in the mid-50s.
Expect temperatures to creep up slightly Wednesday as a warm front moves through, then boom to near 70 degrees on Thursday.
But before then, a brief period of wintry weather -- sleet, snow, rain or a combo -- is possible at some point on Wednesday. The light wintry mix is likely between noon and 5 p.m. It won't be enough to cause problems on the roads, but it'll be sufficient to look and feel pretty wintery outside. It'll be back to spring in a hurry, though.
The higher temperatures later in the week come with the risk of storms for the tri-state area. Thunderstorms and showers are likely Thursday afternoon and evening.
Severe weather will also be possible with that system, though the tri-state area at this point is expected to be on the very northern fringe of the severe threat zone. Straight-line winds appear to be the primary threat at this point, with the storms expected to track from the west into the tri-state during the evening hours.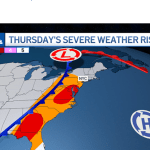 That said, much could change depending on any shifts in forecast, so stay with Storm Team 4 for the latest details as the system moves closer.
The weather calms down a bit after that, with partly sunny skies Friday afternoon and highs approaching 60 degrees to begin the month of April. The weekend at this point looks dry and partly cloudy with highs in the mid-50s on both days.
Track any approaching precipitation using our interactive radar below.
Copyright NBC New York