Thousands were left without power after a dangerous winter storm dropped heavy rain, powerful winds and as much as eight inches of snow throughout the tri-state.
Areas to the north and west of the city got slammed the hardest by snow, as places in New Jersey's Sussex County and New York's Orange County reported some of the highest snowfall amounts, with just over seven and eight inches, respectively. Closer to the city, totals were just a couple of inches, which was mixed with sleet and freezing rain.
As for the city itself, it got less than an inch of snow, which was washed away by rain overnight. The worst of the weather moved out by 8 a.m.
The strong storms also led to plenty of flooding, especially in parts of New Jersey, where nearly a dozen highways in northern parts of the state were partially or completely closed during some of the morning commute due to flooding or storm damage. On Long Island, waters were expected to rise about 2-3 feet above usual tidal levels along the coast, which left some streets partially flooded with standing water.
Flood waters receded as the afternoon went on, with flood warnings eventually expiring for Long Island and parts of the Jersey Shore.
Winds were also a primary concern with this storm. Gusts nearing 70 mph were reported on the coast of Suffolk County on Long Island, as well as in Westchester County and Greenwich, Connecticut. Winds will die off for part of the afternoon, but gusts could pick up by the early evening hours.
Wind advisories were still in effect for places along the Jersey Shore until 1 a.m., as gusts up to 50 mph remained possible.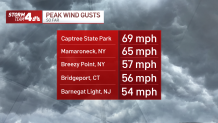 Combining those winds with the precipitation made for a dangerous combination not only for roads, but also creating the potential for widespread power outages. As of 10:15 a.m., regional utilities already reported more than 19,000 customers without power, the largest portions in Westchester County, with more than 4,000 in the dark.
A travel advisory is in effect for New York City through Monday.
Check the latest weather alerts for your neighborhood here.
Winter storm warnings lasted into the early evening for certain areas mainly north of the city, as additional accumulating snow is possible. A stronger snow squall swept across the city and surrounding areas around 5:30 p.m. — making evening commutes tricky. it is not expected to last long, however. and won't add much in terms of snowfall totals.
Any lingering water and slush from the snow will freeze Monday night, as temperatures will continue drop down into the teens and 20s overnight.
The frigid conditions could make for a slick morning commute on Tuesday, and winds will remain brisk through the day as well, though the gusts are not expected to be quite as strong as they were Monday morning. But winds speeds of more than 30 mph are likely.
Temperatures stay in the 30s for Tuesday, before warming up a bit into the mid 40s on Wednesday. But then the cold returns, bringing temperatures back into the 30s for Thursday and then the 20s for Friday — where they will stay well into next week.
There is a chance for a weekend storm, but for now the forecast remains quiet but cold.
Check any approaching precipitation using our interactive radar below.
Copyright NBC New York