The tri-state was hit by a line of severe storms on Wednesday, bringing hail and gusty thunderstorms following a day with summer-like heat.
Much of the day featured hot and humid weather with highs peaking near 90 degrees. The strongest storms arrived in the early evening, bringing down trees and wires throughout the area.
There were reports of hail about a half-inch in size in Hunterdon County just after 6 p.m., as well as downed trees and wires stretching from Dutchess County in New York to Monmouth County in New Jersey. The Port Authority said that Newark Airport and JFK Airport in Queens were experiencing delays as a result of the storms, but did not go into detail about the length of the delays.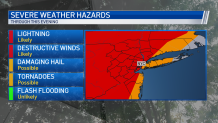 Severe thunderstorm warnings were issued throughout the evening for nearly all of the tri-state, with the exception of New York City, minus Staten Island. Spots from the northern reaches of the Hudson Valley down to the Jersey Shore saw pockets of storms roll through between 5 p.m. and 9 p.m. Check the latest weather alerts for your neighborhood here.
The storms were scattered but powerful as they entered into New Jersey from the west, and lost some of their strength as they approached the city and eastward. Wind damage was still a threat throughout the region, with destructive gusts and lightning in affected areas. There was also a small chance for some damaging hail and tornadoes, though none of the latter were reported.
The chance of hail and tornadoes diminished significantly throughout the day, as the timeline for storms kept getting pushed back later into the evening, meaning the storms wouldn't have as much hot air to give them added power.
Once the storms are done Wednesday night, Thursday looks to be a very pleasant and warm day, with temperatures in the low 80s and with lower humidity. That warmer weather doesn't stick around for most of Memorial Day Weekend, however.
Temperatures dip back down into the high 60s on Friday, as rain is expected in the afternoon and evening hours. Saturday will also have the chance for a few showers as it stays cooler than usual for one more day.
It stays cool for Sunday, as temperatures stay the low 60s with not much sunshine. Monday looks to be the real winner of the holiday weekend, featuring partly cloudy skies and temperatures in the mid-to-upper 70s.
Track the approaching storms using our interactive radar below.
Copyright NBC New York