What to Know
Heavy downpours and gusty winds of up to 60 mph are the primary threats and severe weather, including tornadoes, can't be ruled out
A high wind advisory was issued for Suffolk County until 10 p.m.
The region could see 1-2 inches of rain by Monday night
A tornado warning and multiple tornado watches were issued for parts of New Jersey Monday afternoon into Monday evening as a powerful storm brought damaging winds and rain through the tri-state, leaving thousands without power.
Hunterdon County in New Jersey was briefly placed under a Tornado Warning before 4 p.m. A tornado watch, meanwhile, covers Middlesex, Monmouth, Ocean and Somerset counties in that state through 7 p.m. Several parts of the state were also issued warnings for areal floods (more gradual than flash floods) lasting until later Monday night.
Heavy downpours and gusty winds topping 60 mph left nearly 40,000 people without power across the tri-state by 4 p.m. Some parts of New Jersey saw more than three inches of rain.
A high wind advisory was issued for Suffolk County until 10 p.m. An earlier wind advisory for New York City, the rest of Long Island and the Jersey Shore was called off around 4 p.m. as the strongest winds subsided.
Scattered showers and gusty winds continue into the evening and the late night. By mid-afternoon, Storm Team 4 tracked several inches of rainfall, with up to 3-4 inches in some parts of New Jersey.
High winds triggered transit officials to close the upper and lower levels of the Verrazzano-Narrows Bridge by 2:45 p.m. The lower level reopened by 4 p.m., while the upper level Brooklyn-bound lanes were still closed off.
Temperatures will climb into the 60s by the late afternoon, fueled by strong southeasterly winds. This influx of warmth could be enough to trigger some severe weather.
Damaging wind gusts are the biggest threat. It could cause downed trees and power lines, and outages are expected. Gov. Andrew Cuomo says he has directed state agencies to prepare for possible emergency response.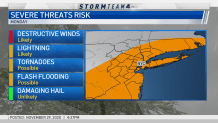 The good news is that rain should taper off by Monday night with cooler air moving in behind the storm.
Stray showers are still possible Tuesday and temperatures will fall into the 40s by the afternoon. The rest of the week should stay with temps staying steady in the mid to high 40s.
Regular rain is expected to make a comeback for the weekend.
Copyright NBC New York