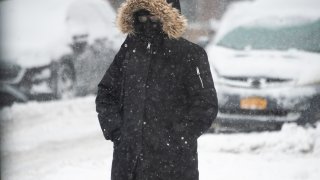 What to Know
The Old Farmer's Almanac has released its prediction for winter in the Northeast and the Atlantic Corridor — and if you like snow, you may be happy to hear what it sees coming
In the Northeast and Atlantic Corridor regions, which encompasses the tri-state, the Almanac is predicting above-normal snowfall for the winter of 2023-2024
Temperatures in both regions are expected to be above normal as well
The Old Farmer's Almanac has released its prediction for winter in the Northeast and the Atlantic Corridor.
The Almanac divides the country into 18 regions and makes weather predictions for each region. Connecticut is covered by both the Northeast region and Atlantic Corridor.
If you like snow, you may be happy to hear the Old Farmer's Almanac's predictions.
In the Northeast region, which includes the upper Hudson Valley and northernmost New Jersey, the Almanac is predicting above-normal snowfall for the winter of 2023-2024. The snowiest stretches will be mid-to-late November, mid-December, and early-to-mid January, according to the prediction.
Temperatures in the Northeast are expected to be above normal. The coldest stretches will be in mid-to-late November, early-to-mid-January, and early-to-mid February, the Almanac says.
The rest of the tri-state area — including New York City, the lower Hudson Valley, Long Island, much of New Jersey and coastal Connecticut — is part of the Atlantic Corridor Region. The prediction for the Atlantic Corridor also calls for above normal snowfall, as much as 2- 3 inches above monthly averages. The snowiest periods will be at the end of December, late January and mid-February, the prediction says.
The Old Farmer's Almanac does not expect a white Christmas for the tri-state.
Temperatures in the Atlantic Corridor are expected to be above normal overall. December will be slightly warmer than normal, while January and February will be below average, according to the Almanac. The coldest weather is expected to be from late January until mid-February.
The Almanac reaches its forecast conclusions "…from a secret formula that was devised by the founder of this Almanac, Robert B. Thomas, in 1792," the publication states. It goes on to say they also use state-of-the-art technology, and apply solar science, climatology, and meteorology to their calculations.
NBC Connecticut Chief Meteorologist Ryan Hanrahan says modern forecasting models are much more reliable and that while the Farmers' Almanac is fun to look at, its predictions are not based on science.
Copyright NBC New York