What to Know
A storm that developed across the south-central United States has arrived in the tri-state — bringing with it snow and ice
NYC mostly escaped the snow, though the farther northwest parts of the state saw nearly a half-dozen inches accumulate
A bigger problem for many in the tri-state was ice that made Friday's morning commute slippery and hazardous on roads, rails and walkways
A sloppy, at times painfully icy mix of rain, sleet and snow barraged the tri-state area overnight and into Friday morning as the latest winter storm hit, slickening roads and walkways and sending rivers of water down New York City streets.
Though little accumulation in terms of snow came in the city, those on the streets and sidewalks encountered piled-up slush and heavy, icy rain by mid-morning. Commuters are advised to use extensive caution over the course of the day.
Snow accumulations north and west of the five boroughs were more notable, with 4 inches reported in parts of the Hudson Valley by 9 a.m. and snow expected to linger at least until noon. See the latest snow and freezing ice totals for the region below.
Ice accumulation reports have been more in line with what was expected, with the highest totals seen in New Jersey early.
---
Snow Totals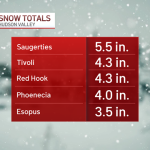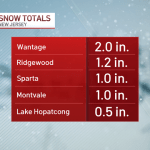 ---
Freezing Rain Totals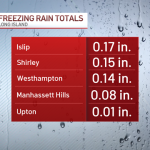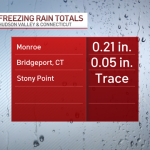 ---
Power outages are a concern with this kind of weather, and though they were fairly limited to start they started to inch up by mid-morning.
As of 10:20 a.m., nearly 5,000 outages had been reported across the tri-state area, almost double the number 90 minutes earlier. The bulk of them, almost 2,900, affected First Energy/Central and Jersey Power & Light customers in New Jersey.
By county, Morris was most affected (845 outages reported), while Long Island's Nassau County bore the brunt of the problems reported in New York.
Winter storm warnings are in effect for Sullivan, Dutchess and Ulster counties, and winter weather advisories are in place for much of the rest of the region, including New York City, northeast New Jersey, Long Island, and Westchester and Fairfield counties. Check the latest weather alerts for your neighborhood here.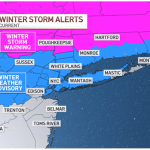 Gov. Kathy Hochul has directed state agencies to prepare emergency response assets in anticipation of the snow through Friday.
"Despite the warm weather we experienced earlier in the week, Winter is not quite ready to be over here in New York State and we are preparing for additional snow and ice expected to impact most of the state on Friday," Hochul said in a statement.
Alternate side parking for Friday was suspended by NYC, and commercial vehicle restrictions went into effect in New Jersey starting at midnight, including a tractor trailer ban.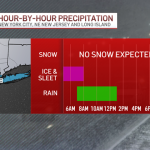 Apart from some snow showers to the far north of NYC, much of the region will begin to dry out around noon. However, the evening commute may still be slick, depending on the temperatures.
The weather pattern turns quieter after Friday's muck, though it will stay cold. Saturday is expected to see temperatures hover around the freezing mark, though Sunday looks to rebound into the low 40s. At this point, it looks like another frigid start to next week, with high temperatures forecast below freezing on Monday.
Expect temperatures to range from the high 30s to high 40s through the rest of next week under sunny or partly sunny skies.
Check any approaching precipitation using our interactive radar below.