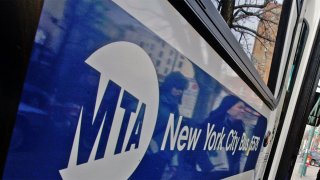 As the coronavirus pandemic rages on throughout the U.S., the four months of disruption can be felt by all sorts of businesses and agencies — one of which is a lifeline for millions of commuters in and around New York City.
The MTA said it can't afford to wait much longer for a federal bailout. The area's mass transit system is set to run out of emergency funding in August, and still faces a $9 billion deficit. MTA Chairman Pat Foye said that "without action by the senate, we don't have a path forward without devastating cuts."
With cash promised by congestion pricing postponed indefinitely, the agency is seemingly in dire straits when it comes to revenue. Officials said there are several projects, totaling around $13.5 billion, aimed at improving or maintaining the transit system that have been on the books for months, but may end up getting scrapped due to the lack of funds.
Here is a list of just some of the projects that may never come to fruition if a federal bailout does not come through, according to transit officials:
Metro-North Penn Station access
Phase II of the Second Avenue subway
Penn Station 33rd Street Corridor
Station renewals and repairs at six stations on the 7 line, and four on the J/Z lines
Modernizing and upgrading signals on LIRR from Babylon to Patchogue, replacing two LIRR bridges, and a new LIRR station at Elmont
Purchasing around 650 new buses, including 23 express and 75 electric units
ADA accessibility at a more than 30 stations, including: Livonia Avenue, Grand Street and Lorimer Street (L train); 149 Street-Grand Concourse and Wakefield-241st Street (2, 4, 5 lines); 14th Street and Sixth-Seventh Avenues Complex (1, 2, 3, F, M, L lines); Tremont Avenue (B, D); Brook Avenue, East 149 Street, 68th Street-Hunter College and Westchester Square-East Tremont Avenue (6); Broadway and Queensboro Plaza (N, W); 181st Street, Beach 67th Street, Court Square-23rd Street (A, E); Steinway Street and Woodhaven Boulevard (M, R); Classon Avenue, Metropolitan Avenue, 7th Avenue and Court Square (G)
Elevator and escalator improvements at 22 subway stations
Grand Central Terminal trainshed