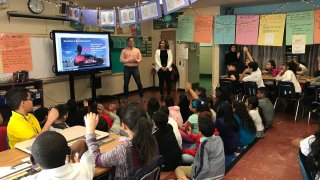 Principals, administrators and science teachers at tri-state elementary schools can sign up for personalized classroom instruction led by weather experts from NBC 4 New York / WNBC. For more information on the popular Weather Kids community initiative and to request a station visit, visit nbcnewyork.com/weatherkids/. Schools selected for participation will be contacted at least 30 days in advance.
NBC 4 New York meteorologists and weather experts offer a "real world" look at weather reporting for students, demonstrating how they track and forecast local weather. The interactive presentation also offers important guidance on staying safe in severe weather and allows ample time for students to ask questions.
NBC 4 New York weather experts utilize Storm Tracker 4, the only commercial high-frequency S-Band dual polarization fixed Doppler weather radar operating in the Northeast. Powered by one million watts of the latest, most cutting-edge technology, StormTracker 4 features a range of 50,000 square miles and can track the storm directly from ground level, providing greater insight on water droplets, hail, sleet, and approaching snow.
Storm Tracker 4 reflects the deepest, most advanced and most comprehensive lineup of weather technology available to any station within the Tri-State region, which also includes StormRanger 4, a first-of-its-kind mobile Doppler weather radar truck and StormChaser 4, a military spec sports utility vehicle which can travel directly into the storm.
To help viewers who are on the go, the station's meteorologists and weather anchors report their local weather forecasts on the station's popular digital platforms, which feature an enhanced weather experience and up-to-the-minute severe weather push alerts that viewers can access via station's mobile app.
Copyright NBC New York