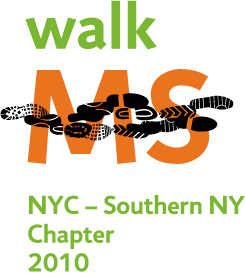 The New York City – Southern NY Chapter of the National Multiple Sclerosis Society will host Walk MS 2010 sponsored by EMD Serono and Pfizer on Saturday, April 17 and Sunday, April 18, 2010. More than 11,000 walkers are expected to participate at seven locations to help raise more than $3 million in support of the chapter's hundreds of annual comprehensive programs and services for people affected by MS in the five boroughs of NYC, and in Westchester, Putnam, Rockland, Orange and Sullivan counties. Fundraising dollars will also support national MS research for the cause, treatment and cure of this unpredictable disease of the central nervous system.

WHAT: Walk MS 2010 to benefit the NYC Southern - NY Chapter of the National Multiple Sclerosis Society

WHEN: Saturday, April 17, 2010:
Orange County - Goshen Historic Track, 44 Park Pl., Goshen, NY 10924
Rockland County - Bear Mountain State Park, Stony Point, NY 10980
Staten Island – Cloves Lake State Park, 1150 Clove Road, Staten Island, NY 10305
Sullivan County - Blue Horizon Diner, 4445 State Route 42, Monticello, NY 12701

Sunday, April 18, 2010:
Manhattan – South Street Seaport, New York, NY, 10038
Putnam County – Carmel Fire Department, 94 Gleneida Avenue, Carmel, NY 10512
Westchester County – Rye Playland Park, Playland Parkway, Rye, NY 10580

REGISTRATION: Visit www.walkMSnyc.org, call 212-463-9791 or e-mail walkms@msnyc.org. Route lengths and start times vary by location.

WHY: Proceeds raised will benefit the New York City – Southern NY Chapter of the National MS Society and national MS research.

About Walk MS
Established in l989 as the Society's only simultaneous national fundraising event and key awareness building weekend, Walk MS attracted 42,000 participants at 42 sites to raise $4 million. Since that time, the event has grown to attract over 200,000 walkers in nearly 600 locations covering all 50 states who in 2008 raised more than $61 million for the MS cause.
The typical route extends 3-12 miles and draws as many as 100 to 6,000 walkers each. Last year alone, nearly 150,000 walkers joined teams to support the effort. Over 2 million consumers made donations. Walk MS was founded as a means of reaffirming the Society's commitment to the 400,000 Americans living with MS and assist them in taking a proactive role to create a world free of MS while educating the public to its challenges.