From Nathan Chen's second heartbraking fall to Mikaela Shiffrin's failed gold medal defense, Connecticut's crash-stricken snowboard star and a birthday boy nicknamed "Warhorse," there was no shortage of must-see action on Day 6 of the 2018 Pyeongchang Olympics.
Without further ado, here are our four to Watch on Day 6:
1. Chen Stumbles Again But Advances to Final With Teammates Rippon, Zhou
Olympic Skaters' Music Choices May Surprise You
After a shaky debut, Nathan Chen stumbles again in Pyeongchang, falling three times to finish 17th in the men's short program.
Leading up to the Games, Chen said he's worked to improve every aspect of his performance, adding "more passion in my skating and more of a connection to the music." But can he find momentum after two sub-par starts?
Chen, a pre-games favorite, missed on all his jumps, plummeting to 17th place with a tentative and passionless showing.
Chen's teammates will advance, finishing above the 18-year-old. Veteran Adam Rippon, 28, lived up to his flair for the dramatic programs, performing to techno song "Let Me Think About It" by Ida Corr vs. Fedde Le Grand, earning him seventh. Seventeen-year-old teammate Vincent Zhou finished the short program in 12th.
Chen, Rippon and Zhou will go for gold Saturday morning (Friday night in the U.S.)
Must-See: 'I let the team down' -- Nathan Chen falls in Pyeongchang debut
MORE: Flashback -- 10-year-old Nathan Chen looks forward to Olympics; Chen's road to redemption; Chen stumbles, Hanyu sets Olympic record in men's short program
2. Redemption Denied: Lindsey Jacobellis Fails to Medal in Snowboard Cross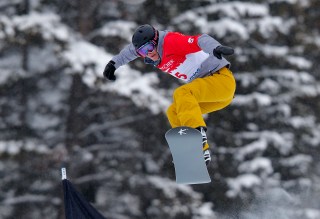 10 Facts on Lindsey Jacobellis: Snow Ace With a Crash Streak
Lindsey Jacobellis, the most decorated women's snowboard cross athlete ever, will finish her fourth Olympics just like the first three: without a gold medal.
Jacobellis, a five-time world champion, reached the finals of the event, then held onto a lead for the first two-thirds of the race. But she faded late, and finished in fourth place.
Italian Michela Moioli, France's Julia Pereira De Sousa Mabileau and the Czech Republic's Eva Samkova finished in the top three.
For Jacobellis, it's just the latest moment in a disappointing Olympic career. It began 12 years ago, in Torino, when she seemed to have the gold medal wrapped up, with a huge lead down the race's final stretch. But she tried a flashy move off a jump and fell, and settled for silver.
Since then, the Olympics have been her kryptonite. She crashed in early rounds in both 2008 and 2012, and failed to reach the final.
And now, one more disappointment: A solid run, but a finish just off the medal stand.
Must-See: Flashback to Torino -- Lindsey Jacobellis wins silver after crashing
More:What Jacobellis has learned from past disappointments; Disappointing showing for Team USA Thursday
3. Heavy Favorite Shiffrin Struggles in Slalom, Finishes Fourth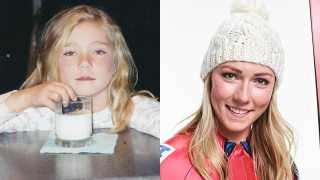 Mikaela Shiffrin's Childhood Photos
Mikaela Shiffrin, the heavy favorite to win the women's slalom and claim her second gold medal in as many days, missed the podium and finished in fourth place in Pyeongchang on Friday.
Shiffrin's fourth-place finish is an astonishing upset, as the slalom is her specialty: Last year, she became the first woman to win three consecutive slalom world titles in 78 years and she won gold in Sochi.
Frida Hansdotter of Sweden took gold, Wendy Holdener of Switzerland took silver and Katharina Gallhuber of Austria won bronze.
The 22-year-old American vomited before her first run, saying her nausea was "kind of sudden" and "almost felt like a virus." Although she used the break between runs to rest up (literally—she is known for her love of napping) second run wasn't enough to get on the podium.
The day before, Shiffrin took gold in the giant slalom.
Must-See: Mikaela Shiffrin wins giant slalom gold with incredible run
MORE: Mikaela Shiffrin on vomiting before slalom race; 'It's the Olympics, you go for gold,' Shiffrin says
5 Fast Facts on Andrew Weibrecht: NY's 'Warhorse' Wants Gold
Also on the slopes was Sochi silver medalist Andrew Weibrecht, a local hero nicknamed "Warhorse" from Lake Placid -- but he could not make it three straight Olympics with a medal in super-G, having taken bronze in 2010 and silver four years ago. The often-injured American missed a gate after flying too far off a jump. Ted Ligety of the United States, the 2013 world champion in super-G, also failed to finish.
Must-See: 'Warhorse' Andrew Weibrecht wins surprising Super-G silver in Sochi
MORE: 5 fast facts on Andrew Weibrecht; Medal streak ends for Andrew Weibrecht in super-G

4. John Daly Misses Out on Skeleton Gold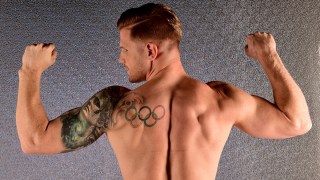 10 Fast Facts on John Daly: A 'Skeleton Man' With Great Hair
Skeleton racer John Daly, a Long Island native, will leave his third Olympics without any hardware. He fell out of medal contention after the fourth heat to finish 16th, and the Americans weren't able to rally to reach the medal mix. Matt Antoine, the reigning Olympic bronze medalist, entered the fourth heat ranked 9th before finishing 11th.
Yun Sungbin won the gold medal in the men's skeleton competition at the Pyeongchang Olympics, South Korea's first in the sport. South Korea's "Iron Man" clocked a time of 50.02 in the fourth heat for a cumulative time of 3:20.55. The 23-year-old beat silver medal winner Nikita Tregubov, one of the Olympic Athletes from Russia, by a margin of 1.63 seconds.
Daly had been to two prior Olympics, but hasn't medaled in either one. To be fair, he was almost in the running in Sochi but his sled jerked out of the starting point and he skidded. He retired after finishing 15th at Sochi, but then came back and returned to skeleton racing in 2016.
Must-See: Flashback -- John Daly's heartbreak in Sochi
More:Daly won't stop doing trust falls with bobsled bud; Yun Sung-bin becomes South Korean hero with skeleton gold