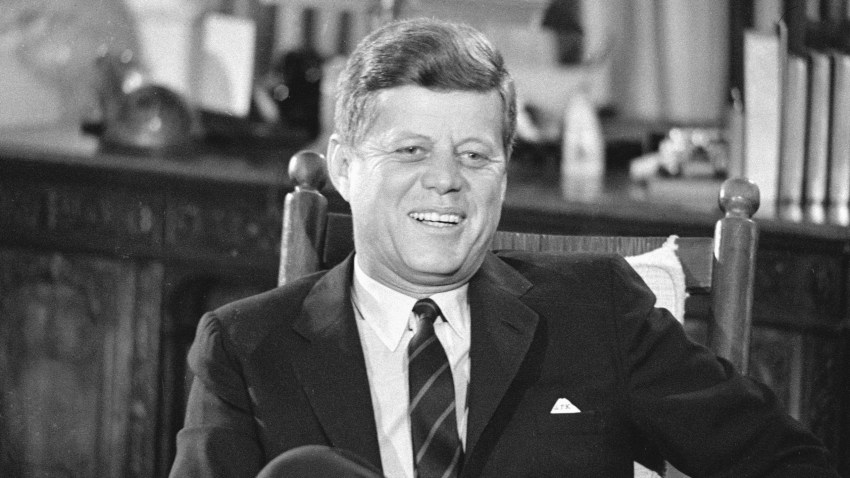 Presidential races can be polarizing. But if there's one thing we can all agree on it's great style.

Surprisingly, the highest office in the U.S. government doesn't always attract the best dressers. From George W. Bush's fondness for Crocs and other questionable leisurewear all the way back to Thomas Jefferson's penchant for tattered slippers and soiled drawers, countless Presidents have made their fair share of sartorial blunders.

Luckily, there are plenty of high points, too. So, without further ado, let's countdown the finest attired men to ever grace the Oval Office.


George Washington
1789--1797
Whether or not you are a fan of ruffled shirts, knickerbockers and powdered wigs, you have to say one thing about old Washington's style: When he could have donned the robes of a king, the man set a precedent for the head of state dressing like a regular American. Sure, styles change, but it's an idea that's endured, making Washington our nation's first fashion icon.

Andrew Johnson
1865--1869
Despite his impeachment and moderate approach to Reconstruction, our nation's 17th President was one hell of a dresser. While most men acquire a sense of style, Johnson was steeped in it thanks to his formal training as a tailor, a trade he plied while a young man in Tennessee.

Theodore Roosevelt
1901--1909
Teddy's wardrobe might not have turned any heads at 1600 Pennsylvania Avenue, but the New Yorker truly made sartorial strides in the great outdoors. Whether fighting in the Spanish-American War, hunting big game in Africa or riding western style on his ranch in North Dakota, the 26th President always looked the rugged part.

Barack Obama
2008--
Critics say President Obama's tall stature and good looks overshadow his bland style. But the current POTUS' penchant for bespoke suits from Chicago-based men's clothier Hart Schaffner Marx has twice earned him a slot on Vanity Fair's International Best-Dressed List.

Bill Clinton
1993--2001
Sure, his fashion choices weren't so inspired during his two-term tenure in the White House (hey, it was the '90s), but Slick Willie has really upped his sartorial game lately, rocking three piece Savile Row suits and bold Windsors (especially when he is in the presence of rock royalty).

Chester A. Arthur
1881--1885
Perhaps the biggest dandy ever elected President, Chester A. Arthur was nicknamed Gentleman Boss and Elegant Arthur thanks to his impressive wardrobe, which reportedly included 80 pairs of pants (or, as he probably liked to call them, pantaloons). He also maintained well-groomed mutton chops, arguably the most stylish of all facial hair.

Harry S. Truman
1945--1953
Long before being sworn into Office, Truman owned a haberdashery in downtown Kansas City, and he was never seen in anything less than a coat (from double breasted to slim cut) and tie (often with bold patterns).

Ronald Reagan
1981--1989
Say what you will about the brown suit trend he started in the '80s, Reagan used his Hollywood background to usher a new sense of style into the White House -- from peak lapels to French cuffs. His policies might have been conservative, but his wardrobe was anything but.

Franklin D. Roosevelt
1933--1945
FDR proved that a man could still be considered fashionably attired even if he began his life in a dress (at the time, they were considered gender neutral for children under seven). Whether waltzing around the White House in a Savile Row suite or simply staying cool underneath a cotton summer hat, he was one of our most stylish presidents. The man even wore a cape during his famous meeting with Churchill and Stalin at Yalta and still looked smashing.

John F. Kennedy
1961--1963
From Shetland sweaters and casual khakis to slim fitting Brooks Brothers suits and collegiate ties (not to mention those ever-present shades), JFK exuded an effortless sense of classic American style mixed with '60s cool that has made him a fashion icon.
__________________________________________________________________________________

NO PURCHASE NECESSARY. Ends 11/5/12. For Official Rules, visit www.jetblue.com/electionprotection.