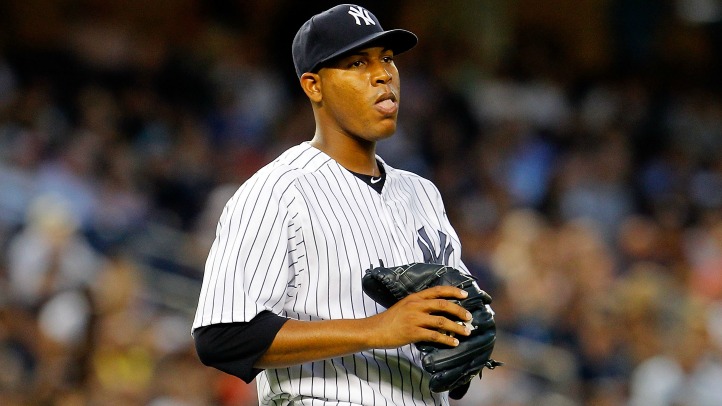 Bidding for Ryan Dempster came down to the wire, but, in the end, the Rangers landed the Cubs starter just as the trade deadline passed.
The reason for the Yankees' interest in Dempster was obvious even if the need for him didn't quite reach the level of pressing. The Yankees have gotten good work from their pitching staff for most of the season, but gearing up for a run at a World Series can mean pushing good aside for something potentially great.
By the end of Tuesday night, it was fair to wonder if the Yankees had passed on good for something that's potentially a nightmare. Ivan Nova was horrid against the Orioles, handing back a 5-0 first inning lead and giving up nine runs overall in an 11-5 loss that sliced the Yankees' division lead to 5.5 games.
Nova said after the game that he had good command, which would indicate that his plan was to miss spots and leave balls bubbling in the zone just long enough for the Orioles to crush them into all corners of Yankee Stadium. Nova's start leaves him winless since July 8th and with a 5.97 ERA for the month of July.
It feels like an outlier, but only because Nova pitched very well in June. April and May looked a lot like July in total, although Nova was more consistently mediocre in those months and more spectacularly bad at points in July.
Not spectacular enough for the Yankees to press their offer for Dempster into the upper reaches, obviously, and that decision felt like much more of a miss while Nova was melting down on the mound. It didn't help that updates from Chicago about A.J. Burnett no-hitting the Cubs started to filter in while the Yankees were going down in flames.
Burnett had to settle for a one-hitter, but his resurrection has been an undernoticed story amid the overall giddiness sparked by the Pirates' return to relevance. No one wants to rewrite history to bring Burnett back to the Bronx, but no one wants to see Nova continue doing a Burnett impersonation this season either.
That's what he did on Tuesday and the Yankees are banking on him coming up with something more appealing down the stretch. The only deadline deal was for infielder Casey McGehee as further protection against A-Rod's injury, which means someone needs to slip through waivers if the Yankees want to try for an upgrade to the rotation.
It felt like a much better strategy before Nova took the mound.
Josh Alper is a writer living in New York City. You can follow him on Twitter and he is also a contributor to Pro Football Talk.
Copyright FREEL - NBC Local Media