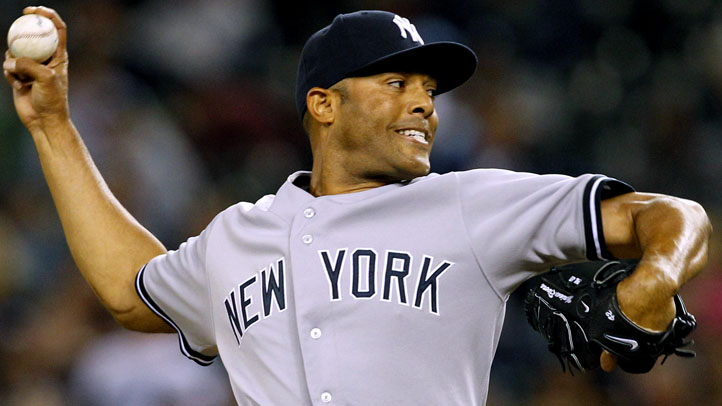 Everyone who watches baseball has asked themselves the same question at one point or another in the last five years.
When will Mariano Rivera run out of gas?
It's become like a parlor game at baseball stadiums around the county, talking about the presumed mortality of history's greatest closer shortly before he comes to the mound and wipes away the opposition with the same pitch he's been throwing for the better part of two decades. When Rivera does his trick, you just smile and shrug your shoulders at the genius unfolding in front of you.
In that way, it's almost fitting that a freak accident on a warning track in Kansas City might the place where Rivera's career comes crashing to an end. There was no way that Rivera was ever going to run out of gas on that mound with cutters flowing through his arm as free and easy as they ever have, so it was going to have to be something outside the normal order of things that signaled the end.
And there's a pretty good chance that this is the end. A torn ACL certainly means the end of the season and raises more than a little possibility that it ends Rivera's career.
Based on what he said and hinted during spring training, it already felt like Rivera was planning to retire when the year came to an end and that feeling only grows in the face of a serious knee injury. Rivera's going to be 43 years old in November and he wouldn't be the first athlete to say no mas in the face of surgery and intense rehab.
You could make the other argument, of course, and say that Rivera doesn't want his career to end face down in the Kansas City outfield. An injury this severe might be the one thing that Rivera can't beat simply through the force of his nature, however.
The loss of Rivera from the bullpen might not be devastating in the standings. David Robertson is skilled enough to close games and Rafael Soriano has done a fine job of it in the past as well.
Joe Girardi is going to be able to make trips to the mound and summon pitchers who can help the team win. That doesn't make the loss of Rivera any less sad, though.
When Girardi does go to the pen, it will be just a pitcher coming through the door and that means we'll all be robbed of the chance to watch a master working his craft one inning at a time.

You knew that a moment would come where Rivera wasn't slinging the ball any longer, but the dream always was that he'd simply fire one last pitch for a strikeout and then fade away from the corners of the mind.
It didn't happen that way. Rivera didn't get any more chance to author his final scene as other, lesser players because life's just not fair that way.
Neither is baseball, obviously, and that's the very painful lesson learned during a batting practice session gone terribly wrong.
Josh Alper is a writer living in New York City. You can follow him on Twitter and he is also a contributor to Pro Football Talk.
Copyright FREEL - NBC Local Media