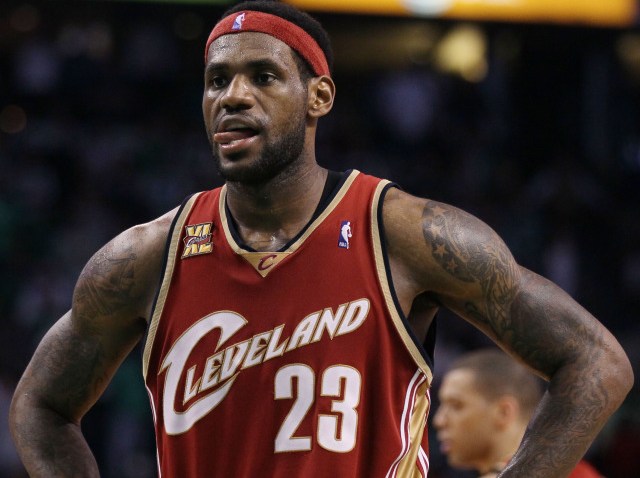 At some point during the exhaustive amount of time spent discussing the Knicks' chances of landing LeBron James, our minds began to drift into a daydream about what secret things the Knicks might have up their sleeve to lure the NBA's biggest star.
Perhaps they'd finagle a state income tax exemption for him in exchange for putting his face where the heart usually resides on "I Love NY" t-shirts? We've always wondered what it would be like if someone got to live in Belvedere Castle on the Great Lawn in Central Park. Why not give it to LeBron, gratis naturally, and let the King truly live in a castle where he could address his adoring masses whenever he felt the need to share his thoughts.
There are other possibilities, but the hope was that the Knicks had something that no one knew about or thought of to entice James to forsake all the other offers and call our fair city home. Those hopes were dashed a bit when Chad Ford of ESPN.com revealed, via a source "with knowledge of the Knicks thinking", the four-point plan to bring LeBron to New York.
They are, in order, the chance to play with another superstar; a supporting cast crafted to his specific needs and/or whims; the chance to play for Mike D'Antoni with Donnie Walsh pulling the strings and, finally, the chance to own New York City.
That's a little underwhelming, isn't it? No diplomatic immunity? No blimp proclaiming "The World is Yours" circling the city every day? No balloon in the Thanksgiving Day Parade? No chance to become the sole creditor for Eddy Curry's massive debt?
Let's step it up over there, Mr. Dolan. Those are all good things, of course, and they may be compelling enough to seal the deal. It's just that they are all the things that we've known since the dawn of time. At least that's how long it feels like since the Knicks and their fans have been knocking about those specific pitches to James. Maybe they work, maybe they won't but it's hardly the Marshall Plan when it comes to ingenuity.
July 1st really can't come soon enough, even if the end result is dreaming up pitches to bring Carmelo Anthony at the same time next year.
Josh Alper is a writer living in New York City and is a contributor to FanHouse.com and ProFootballTalk.com in addition to his duties for NBCNewYork.com. You can follow him on Twitter.
Copyright FREEL - NBC Local Media