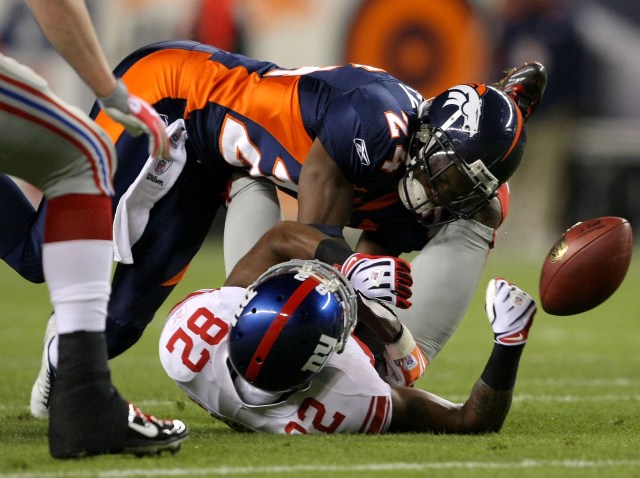 The Giants should be thankful that Thursday night's game only lasted 60 minutes. If the NFL mandated longer games, lord only knows how bad the final score would look.
Not that 26-6 is anything to be thrilled about, of course. Four days after they stopped the bleeding with an overtime win against the Falcons, the Giants are gushing again as a result of the beating they took from the Broncos on Thursday night. We could try to single out individual goats for Tom Coughlin's team, but that would be as difficult as choosing the least popular dishes on our Thanksgiving table.
Everything in sight was being devoured during dinner and just about every Giant in uniform shared some blame for the team's fifth loss in six games. There are some particularly glaring trouble spots, however. The offensive line struggled in both pass protection and run blocking all night. If any individual member deserves to be named turkey of the night it was left tackle David Diehl who was useless against Broncos linebacker Elvis Dumervil. That Diehl isn't as quick as the 5'11", 250-pounder goes without saying, but the fact that he wasn't stronger is alarming. Dumervil had two sacks and forced a fumble in a fairly dominant performance.
The defensive line wasn't much better than their pals on the other side of the ball. The Broncos owned the line of scrimmage in the running game and they kept Kyle Orton from being harassed almost all night long. Osi Umenyiora spent a lot of time running his mouth at Orton, other Broncos and his teammates. One wonders what might have happened if he'd saved his strength for actually playing the game. Whether defensive tackles Barry Cofield or Fred Robbins are hurt or simply wearing down is up for discussion, but the fact that they can't get the job done well enough is no longer up for debate.
It goes on from there. There was no spectacular Eli Manning performance to save them this time and, frankly, there's never been a quarterbacking performance good enough to overcome the dreadful game the rest of the Giants turned in. It won't be a fun 10 days for Big Blue as they prepare for the Cowboys and a game that can effectively end their season.
This may have been the worst of the five Giants losses in the last six games. They were facing a team that was in an even worse spiral and let the Broncos dictate everything about the game from the get-go. Playoff teams don't do that, and it's getting harder and harder to envision the Giants winding up in the postseason.
Josh Alper is a writer living in New York City and is a contributor to FanHouse.com and ProFootballTalk.com in addition to his duties for NBCNewYork.com.
Copyright FREEL - NBC Local Media