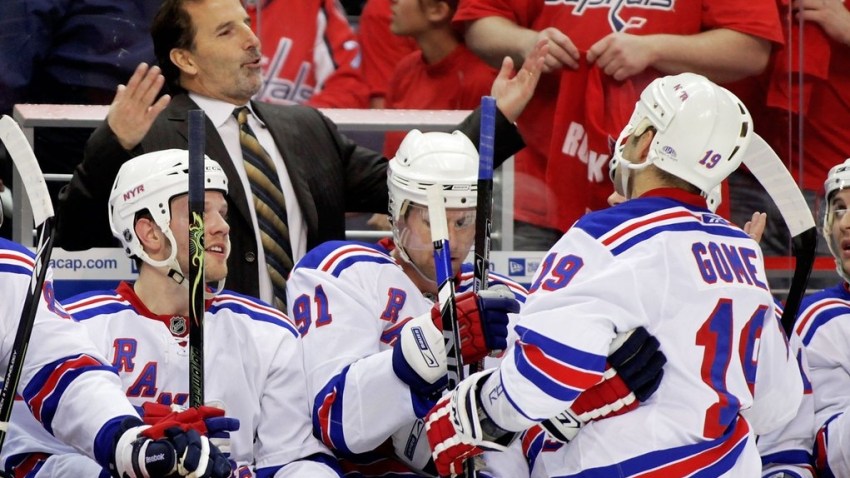 The New York Rangers want the NHL to discipline the Washington Capitals just as the league penalized John Tortorella, saying poor security led to the confrontation between the coach and fans.
Tortorella was given a one-game suspension for squirting water and tossing a water bottle into the crowd at Washington during Friday's 4-0 loss to the Capitals.
The Rangers sent a letter Saturday to the NHL asserting "gross negligence" by the Capitals in response to "egregious fan misconduct." Spectators behind the visitors' bench used obscene language and spit on team personnel, the letter said, and Capitals security did not act on requests to intervene.
"According to Rangers trainer Jim Ramsay, one patron was screaming at the team, in graphic language, about whether Dan Girardi and Marc Staal have a sexual relationship," general manager Glen Sather wrote in a letter to NHL commissioner Gary Bettman that the team released Sunday. "This was within earshot of several children seated nearby. Several other fans also made repeated homophobic remarks."
Ramsay alerted a security guard and later a security supervisor, the letter said, but the offending fans were not removed from their seats.
"Washington's failure to respond to what its personnel knew — and were specifically warned — was a potentially dangerous situation contributed significantly to this unfortunate incident," Sather wrote.
The letter also asks for improved security for a potential Game 7 in Washington. The Rangers led the series 3-2 heading into Sunday's Game 6 in New York.
Before the game, Tortorella's replacement, Jim Schoenfeld, defended the coach's actions. Schoenfeld, an interim assistant coach who doubles as the club's assistant general manager, stepped in for the critical Game 6.
"I know the heart of the guy and I know the thing that triggered him," Schoenfeld said. "It wasn't any sling to him, and there were many. It was what was said about one of his players.
"It's easy to say you've got to be in control, you've got to keep it in check, you've got to turn the other way. There are rules, but there is a certain part of your being when you're a coach. It's just like being a parent, and there are certain things you'll put up with when people slander your kids and there is a certain line people cross. That's what happened with Torts.
"You can say what you want to Torts ... call him whatever you want. He'll tell you what to do with your horse, but he's OK with that. Don't get down on the people he cares about. He will fight for them, and that's what he did."
Copyright AP - Associated Press