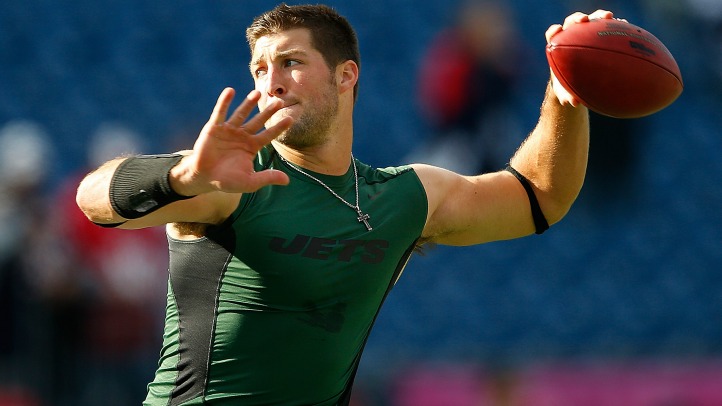 The go-to epithet for the Jets over the last two years has been to call them a circus.
Circuses tend to be entertaining for reasons outside of schadenfreude, however, and there hasn't been much entertainment value for anyone hoping to see the Jets do well. A preschool classroom is a better comparison to make.
Preschool classes are filled with little boys and girls brimming with the inconsistencies and eccentricities that make it all but impossible to get them pulling in the same direction without an overwhelming amount of work for the teachers. The Jets feel the same way and the Tim Tebow saga is the easiest way to illustrate that.
All through the offseason and training camp, the Jets talked about Tebow like he was some kind of deus ex machina who would swoop in to humiliate opposing defenses with such ferocity that the practices involving his offensive work couldn't be revealed to the world. Then the season started and Tebow became a guy who runs fake punts and dive plays without any significant positive impact.
Before the bye week, Rex Ryan said that we'd be seeing more of Tebow in the final eight games of the season. Like a four-year-old who asks for apple juice and then throws a fit because they don't have lemonade, though, Ryan has backtracked this week.
"It probably wasn't the smartest thing, me coming out with that statement," Ryan said. "It's more about all of us and Tim included. We are always looking at things on how we are using our roster for the betterment of the football team."
Ryan tried to cover it up by saying that he'd never say exactly how much he'll use Tebow, which would be a lot easier to swallow if he hasn't consistently said how much they'll use Tebow before moving in the exact opposite direction. Adding to the fun is that Tebow, like any good preschooler, isn't just sitting quietly and waiting for his number to be called.
"When you're getting the ball a lot during the game you kind of get the rhythm during the game," Tebow said. "It makes it easier. You get the feel, the rhythm. I think being spot playing is fun, you're in different roles. At the same time it's hard to get a feel. Sometimes if you're in a few plays on a drive it gets easier. Sometimes that's the harder part of spot playing. But it is fun. I just love playing."
It has been seven months since the Jets traded for Tebow and they are no closer to using him in a way that makes an impact. This isn't a call to put him in the lineup in place of Mark Sanchez, but an illustration of just how insane an idea it is to count on children to be able to run a well-oiled and successful organization.
Play him, don't play him, use him as a halftime show or anything else under the sun. Just stop talking about it and do it, already, because this other system hasn't helped the team, Sanchez or Tebow achieve anything worthwhile to this point.
Even a 4-year old eventually figures out that successive failures call for a new approach. Maybe the Jets will get a little enlightenment while having graham crackers at snack time this week.
Josh Alper is also a writer for Pro Football Talk. You can follow him on Twitter.
Copyright FREEL - NBC Local Media