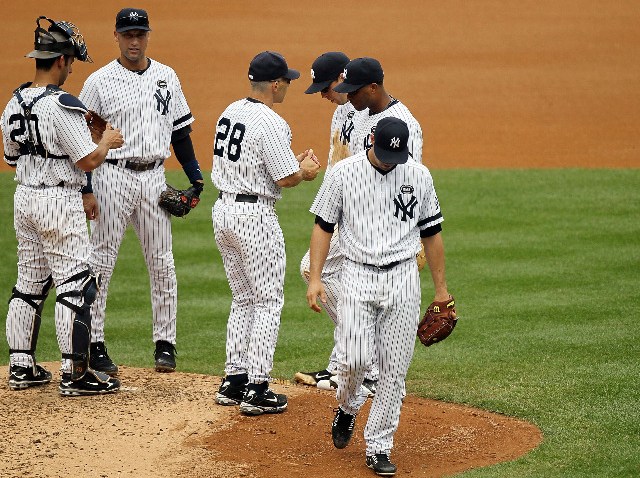 Is there anyone who still thinks Cliff Lee would have simply been gilding the lily for the Yankees?
We're looking for a show of hands but doubt that too many will be thrust into the air after their owners realize that Dustin Moseley and Ivan Nova make up 40 percent of the Yankee rotation. Or that Andy Pettitte's future is still in some doubt. Or that Phil Hughes is rapidly approaching his inning ceiling and A.J. Burnett remains as maddeningly A.J. Burnettish as always. Things could be worse, to be sure, but they could also be better as the Yankees try to secure both a division crown and a playoff spot.
At least they don't have Javier Vazquez to kick around anymore. Nova will take his start on Sunday and it says a lot about just how bad Javy has been this season that one 73-pitch start was enough to bounce him from the rotation at this juncture of the season. Joe Girardi hinted that Vazquez will now be used to help shorten Hughes's outings in the near future as the Yankees try to avoid the destruction wrought by their managing of Joba Chamberlain down the stretch in 2009.

That might work, but it certainly can't be any worse than watching Vazquez struggle to get through the third inning of his starts.
Whatever you think of that choice, the fact that the Yankees are making a choice between Nova and Vazquez with September days away has to give you some pause about the chances of a title defense for the Bombers. The rotation right now feels a lot more like some of the ones from the years between 2002-2008 when the Yankees were overly reliant on offensive explosions to win games, a strategy that consistently fell short in the postseason because they are harder to come by against good pitching teams.
None of those teams had CC Sabathia, of course, and a healthy return from Pettitte would alleviate almost all of the big concerns going forward, but it is telling that scuttlebutt has the Yankees sniffing around Hiroki Kuroda of the Dodgers should he hit the waiver wire. The rotation is a work in progress at a time when you'd like to see the team rounding into playoff form.
Josh Alper is a writer living in New York City and is a contributor to FanHouse.com and ProFootballTalk.com in addition to his duties for NBCNewYork.com. You can follow him on Twitter.
Copyright FREEL - NBC Local Media