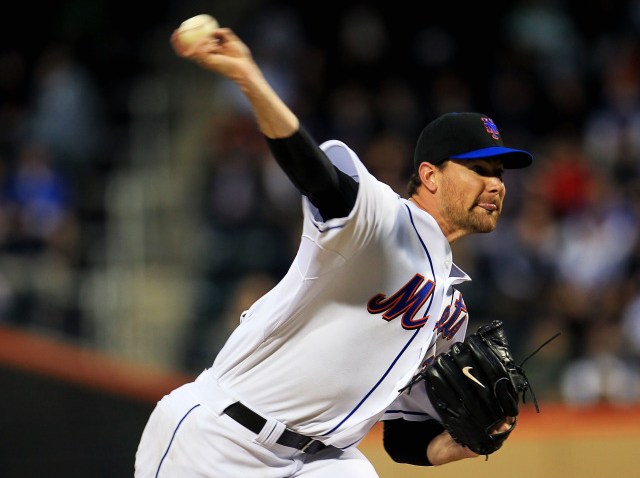 When the Mets lost four straight and seemed certain to get swept by the Rockies last week, Mike Pelfrey was there to stop the bleeding. When Francisco Rodriguez blew a save in the 19th inning in St. Louis on Saturday night, Pelfrey was there to nail the game down in the 20th. When the Mets had their most optimistic night of the season thanks to Ike Davis's debut on Monday night, it was Pelfrey who kept the good vibes rolling with seven shutout innings on Tuesday.
Somehow, the pitcher who spent 2009 looking like a long-tailed cat in a room full of rocking chairs has become the man the Mets can count on to keep the panic from overwhelming them and their season. It's been an awfully fun transformation to watch. Pelfrey always had talent, now he actually trusts it and deploys it with nothing other than a smile on his face and, perhaps, a happy song in his heart.
Jose Reyes was also hearing some music from within on Tuesday. The shortstop looked like the man we've been missing for so long with four hits, a spring in his step and that irresistible smile wide across his face. Pelfrey's happy song doesn't just fuel him, it is bringing life to his teammates.
To their surprise, Mets fans are finding themselves singing along. The dark clouds haven't left the sky, not by a long shot. Carlos Beltran still isn't ready to start running or doing baseball activities. That means it is likelier that the Mets will have Willie Mays in their lineup by the end of May, which is bad news because Jason Bay, Jeff Francoeur and David Wright all look lost at the plate right now. The trio struck out five times combined on Tuesday night and all give off the exact opposite vibe than the blissed out one Pelfrey is emitting right now.
Throw in the hamstring injury Ryota Igarashi suffered while throwing a pitch on Tuesday and you'd expect fans to be talking themselves out of the mildest levels of excitement. That's not the case, though. For the first time all season, maybe for the first time in two seasons, the prevailing feeling around the Mets is a peaceful, easy one.
Josh Alper is a writer living in New York City and is a contributor to FanHouse.com and ProFootballTalk.com in addition to his duties for NBCNewYork.com.
Copyright FREEL - NBC Local Media