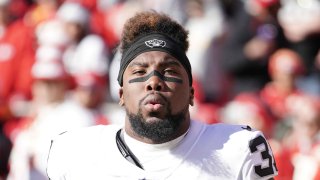 Peyton Barber is going to want this play back.
The Las Vegas Raiders running back made a major special teams blunder in the first quarter against the Cincinnati Bengals. A short kickoff from Evan McPherson trickled toward the sideline near the end zone, and Barber bailed him out by corralling the ball and stepping out of bounds.
Had Barber put a foot out of bounds before touching the ball, the Raiders would have gotten the ball at their 40-yard line. Instead, they were a few yards in front of their end zone while trailing 10-3.
The mistake nearly proved even more costly once the Raiders' offense got on the field. Derek Carr was sacked by Sam Hubbard at the 1-yard line and just barely avoided a safety.
Barber's mental error wasn't the only self-inflicted mistake for the Raiders in the first quarter. The team also had a handful of false starts in the opening 15 minutes with the Cincinnati crowd playing a major factor.