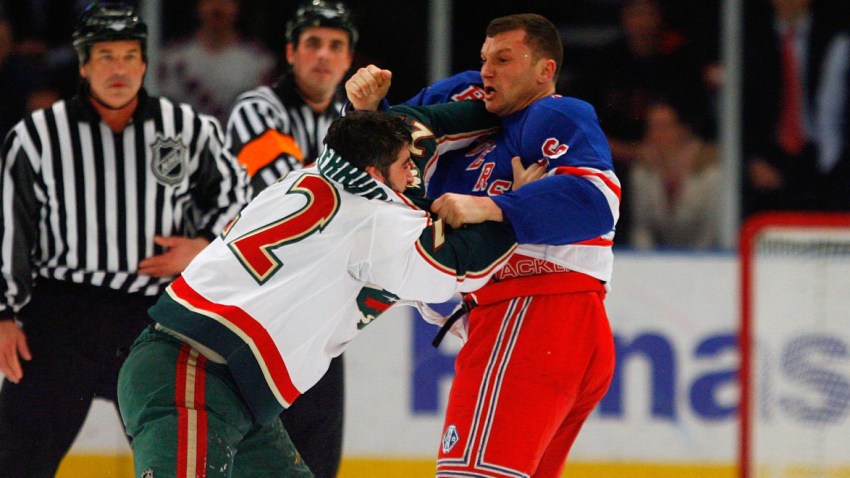 There's not much overlap between the National Hockey League and the world of high fashion. That's what makes Sean Avery such a unique figure. The Rangers forward was profiled in the New York Times Style section on Sunday, a rarity for a league that struggles to get much place on the sports section.
The article shows how Avery, who famously interned for Vogue magazine, has brought fashion designers and others from that segment of New York society into the Garden since his return to the team earlier this month. That's less significant to the Rangers than their improved record with the fiesty player in the fold, but quite important to hockey as a whole.
Avery, of course, earned revulsion and a suspension for ridiculing other hockey players for dating his ex-girlfriends while with the Dallas Stars earlier this season. Those comments only added to the legend of a player who was already hated for his style of play and made Avery the whipping boy for a good segment of the hockey world.
A sports marketing executive interviewed by the Times compared Avery to Dennis Rodman, and said that such a connection would hurt his attempts to broaden his image off the ice. That may be true for the traditional outlets for athletes, but the fashion world has different notions of what's acceptable. Being a bad boy wouldn't hurt Avery in that realm, and it bears mentioning that Rodman still has a much bigger profile than a lot of other athletes who outperformed him while keeping their noses much cleaner.
Being a blue-collar league full of good guys hasn't done much to draw eyes to the NHL, so they may actually need more guys like Avery. Sidney Crosby, the league-approved and promoted best player, doesn't have enough personality to get half the attention that Avery's gotten in a few weeks with the Rangers. Some of that is New York vs. Pittsburgh, but the people involved play a pretty major role as well.
As much as they may despise Avery as a person, the NHL has to realize what Avery brings the league in terms of visibility and try to capitalize on that to promote the parts of the game that they are proud of. Use Avery, in other words, the way he's used the league to make himself a bona fide celebrity.
Josh Alper is a writer living in New York City and is a contributor to FanHouse.com and ProFootballTalk.com in addition to his duties for NBCNewYork.com.
Copyright FREEL - NBC Local Media